An emergency meeting of the United Nations Security Council will take place on Monday in response to reports of a poison gas attack in Syria, with Donald Trump warning there would be a "big price to pay" for the alleged atrocity.
At least 40 people are reported to have died in the rebel-held town of Douma and if it is confirmed chemical weapons have been used by Bashar Assad's regime it could risk further escalating the crisis in the region.
Syrian state television reported that a military air base came under attack from missiles in the early hours of Monday, although the US quickly denied it was behind the offensive.
The US president authorised missile strikes against Syria after a chemical weapons attack last year and the White House has indicated nothing is "off the table" after the latest incident.
Whitehall sources confirmed the UK was "not ruling anything out nor in" but acknowledged there were "political issues" around securing parliamentary support for British involvement after MPs voted against strikes following a chemical attack in 2013.
Defence Minister Tobias Ellwood and a number of MPs from across the political divide have called on Theresa May to take action over the latest atrocity.
"We cannot keep turning a blind eye to these barbaric and illegal atrocities," Mr Ellwood, a former Army captain, told the Daily Mail.
"We are now standing up to Russia and so we should with Syria."
Foreign Secretary Boris Johnson said in February that Britain should consider joining military action against Assad's regime if there is fresh "incontrovertible" evidence he has used chemical weapons against his own people.
After intense diplomatic activity on Sunday, the US, UK and France were among countries that called for the emergency UN meeting.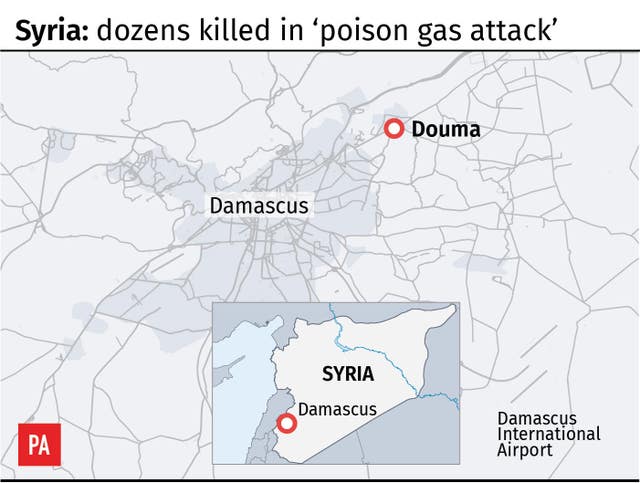 Both the UK and US highlighted Russian and Iranian support for the Assad regime in their responses to the reported atrocity.
The alleged attack in the town of Douma occurred late on Saturday amid a resumed offensive by Syrian government forces after the collapse of a truce with the Army of Islam rebel group.
Syrian opposition activists and rescuers said poison gas was used on the rebel-held town near the capital – an allegation strongly denied by the Assad government.
Families were reportedly found suffocated in their homes and shelters, with foam on their mouths.
Reports suggested more than 500 people, mostly women and children, were brought to medical centres with difficulty breathing, foaming at the mouth, and burning sensations in the eyes.
Mr Johnson said the reports were "deeply disturbing" and "truly horrific".
He added: "These latest reports must urgently be investigated and the international community must respond.
"Investigators from the Organisation for the Prohibition of Chemical Weapons (OPCW) looking into reports of chemical weapons use in Syria have our full support. Russia must not yet again try to obstruct these investigations."
The OPCW is at the centre of the diplomatic row between the UK and Vladimir Putin's Russia over the nerve agent attack in Salisbury, with the organisation currently testing samples of the substance allegedly used in the incident.
Mr Johnson added: "Should it be confirmed that the regime has used chemical weapons again, it would be yet another appalling example of the Assad regime's brutality and blatant disregard for both the Syrian people and its legal obligations not to use chemical weapons.
"We condemn the use of chemical weapons by anyone, anywhere. We are in close touch with our allies following these latest reports.
"Those responsible for the use of chemical weapons have lost all moral integrity and must be held to account."
Mr Trump branded Assad an "animal" in a series of posts on Twitter.
He said: "President Putin, Russia and Iran are responsible for backing Animal Assad. Big price to pay."
The European Union said "the evidence points towards yet another chemical attack by the regime".
The alleged gas attack in Douma comes almost exactly a year after a chemical attack in the northern Syrian town of Khan Sheikhoun killed dozens of people.
That attack prompted the US to launch several dozen Tomahawk cruise missiles at a Syrian air base.
President Trump said the attack was meant to deter further Syrian use of illegal weapons.
Labour leader Jeremy Corbyn said: "The horrific deaths and injuries in Douma point to a chemical attack which must be fully investigated by the UN and those responsible held to account. The need to restart real negotiations for peace and a political settlement in Syria could not be more urgent."
Shadow education secretary Angela Rayner said "there must be a day of reckoning for those responsible".
Commons Foreign Affairs Committee chairman Tom Tugendhat told the BBC: "We can perfectly reasonably strike the bases that hold chemical weapons and strike the aircraft hangars that hold the aircraft that carry them without playing a part in the ongoing civil war."