One in 20 adults in England feel lonely often or all of the time, official analysis shows.
Those in their late teens and early 20s were significantly more likely to be affected than older age groups, according to the study.
Experts said the findings show loneliness can affect people at all stages of life and warned social media could be exacerbating the problem, particularly among younger generations.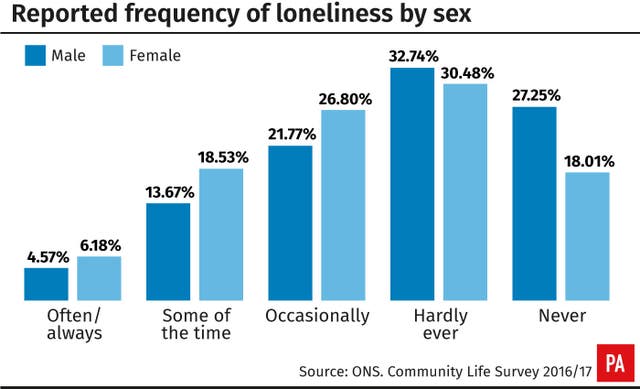 In January Theresa May described loneliness as a "sad reality of modern life" for too many people as she announced a range of measures including the appointment of a minister with a specific brief to lead the Government's response.
The Prime Minister's intervention came after previous research found more than nine million people feel lonely either often or always, while about 200,000 older people have not had a conversation with a friend or relative in more than a month.
The ONS report published on Tuesday said 5% of those aged 16 and over in England reported feeling lonely often or all of the time in 2016-17, and 16% felt lonely sometimes and 24% occasionally.
Nearly a third (31%) said they experience loneliness hardly ever and more than one in five (23%) said they never do.
Compared with nearly all other age groups, those aged 16-24 were significantly more likely to report feeling lonely often or always.
The youngest respondents were also the least likely to state they never experience loneliness.
He added: "This is particularly true of the digital world, where teens can have thousands of friends online and yet feel unsupported and isolated.
"Technology, including social media, could be exacerbating social isolation.
"The vast majority of young people we ask say that spending time face to face with others improves their mental health."
Chris Sherwood, chief executive of charity Relate, said: "Loneliness is often associated with older people and therefore so are many of the current interventions aimed at tackling it.
"However, as these statistics show, it's in fact younger people aged 16-24 who report feeling the loneliest."
Women reported feeling lonely more often than men, the paper said, although it noted that some research suggests men may be more reluctant to report undesirable feelings such as loneliness.
Renters, widowers and widows, single people, the unemployed and those in poor health were found to have a greater likelihood of frequently feeling lonely.
Statistical analysis identified three specific profiles of people at particular risk from loneliness: widowed older homeowners living alone with long-term health conditions, unmarried middle-agers with long-term health conditions, and younger renters who have "little trust and sense of belonging to their area".
Married homeowners in good health, who live with others, were found to have the lowest likelihood of loneliness.
Caroline Abrahams, charity director at Age UK, said: "It's clear from this new analysis that loneliness can affect anyone, no matter how old they are, and it is important to note that loneliness is not a natural part of growing older."
Laura Alcock-Ferguson, executive director of the Campaign to End Loneliness, said: "Loneliness is not simply the result of someone's personality or character; it's vital to acknowledge contributors to loneliness such as health and economic status."
Statisticians said the findings could be used to develop policy and initiatives to support those at the greatest risk of loneliness.
Dawn Snape, of the ONS, said: "Both personal and social connections can have an important effect on our personal well-being."
Minister for Loneliness Tracey Crouch said: "Loneliness can affect anyone, regardless of your age, gender or background.
"This research confirms that it is not only the elderly who suffer, but that far too many young people feel alone and isolated every day.
"We are working hard to understand the causes and combat the problem of loneliness across all age groups."