A mental health trust in London has won a competition to receive a garden from the Chelsea Flower Show to benefit patients and staff, it has been announced.
The Royal Horticultural Society's "feel-good garden" created by award-winning designer Matt Keightley will be relocated to Camden and Islington NHS Foundation Trust this summer after the world famous flower show.
The trust, which provides care and treatment to vulnerable adults in a built-up part of the capital where green space is limited, won the competition out of 39 mental health trust which entered to receive the garden.
The garden will be installed at the Highgate Mental Health Centre, one of its two inpatient psychiatric sites, in an underused open space.
It will be accessible on a daily basis for around 30 adults, and will also be enjoyed by patients and staff who work in the wards surrounding and overlooking the space, the RHS said.
The competition by the RHS and NHS, which is celebrating its 70th birthday this year, aimed to raise awareness of the positive impact horticulture can have on mental health and how gardens can be relaxing and rehabilitating places.
Andrew Kingston, the Trust's recovery service manager with expertise in horticultural therapy, said: "We serve older adults with mental health problems, such as schizophrenia and severe depression, or dementia.
"At the time of their arrival, people can be extremely distressed and agitated.
"An attractive and well-maintained outdoor garden area will be invaluable in contributing to their recovery.
"It will also give these very vulnerable individuals a rare opportunity to interact with an outdoor environment and will be of significant support in their recovery.
He added: "It's a unique and wonderful gift to patients, their relatives and carers, as well as staff on the units."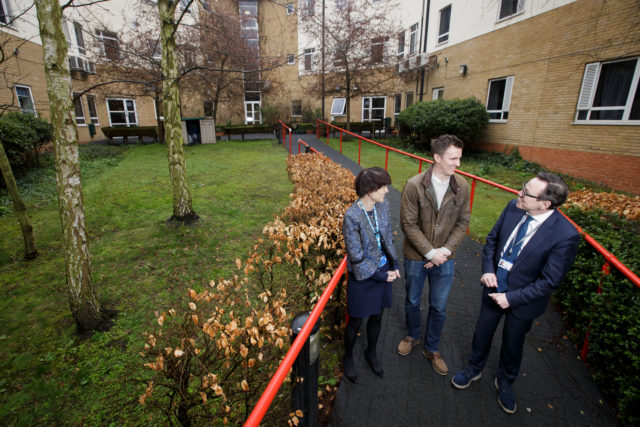 "That would make everyone happy, particularly when the sunshine is out.
"Lots of people like gardening too. I enjoy taking out old leaves and plants and putting in new bulbs.
"If people got a chance to do that, that would be a real benefit too."
Mr Keightley, twice-winner of the RHS/BBC People's Choice Award at RHS Chelsea Flower Show and part of the judging panel, said: "Looking through the submissions was a really moving experience and demonstrated just how valuable a green space or garden can be for patients and staff.
"There were so many inspiring entries, it was not an easy decision.
"I am delighted that the RHS Feel Good Garden will live on, providing a calm and beautiful space for adults in need of respite."