The Russian Embassy in London has accused British authorities of the "abduction" of Yulia Skripal and her former double agent father Sergei after she was released from hospital.
The Russian nationals were poisoned with a nerve agent thought to have been ordered by Moscow more than a month ago, leaving the pair seriously ill at Salisbury District Hospital.
Yulia's release by medics was confirmed on Tuesday morning, with her father's health said to be improving – despite grave fears he would not survive coming into contact with the military-grade nerve agent Novichok in Salisbury on March 4.
In a series of statements, posted on social media following Ms Skripal's release from hospital, the Russian Embassy said: "Secret resettlement of Mr and Ms Skripal, barred from any contact with their family will be seen as an abduction or at least as their forced isolation."
Ms Skripal's release from hospital was met with a similar broadside from the embassy, which has repeatedly criticised the handling of the investigation into the attack.
In a statement, a spokesman said: "We congratulate Yulia on her recovery.
"Yet we need urgent proof that what is being done to her is done on her own free will."
Announcing an update on the Skripals' conditions, Salisbury District Hospital medical director Dr Christine Blanshard said: "Both patients have responded exceptionally well to the treatment we've been providing. But, equally, both patients are at different stages in their recovery.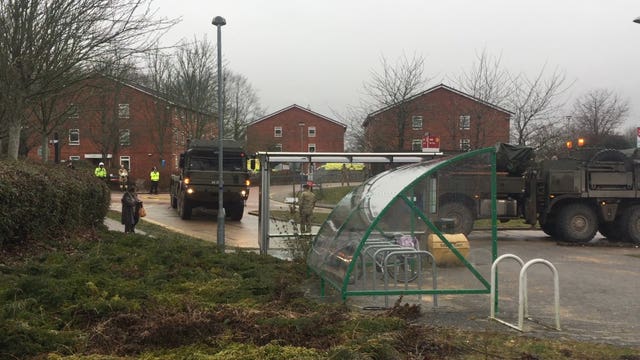 She said Ms Skripal has asked for privacy following her release from hospital.
Dr Blanshard said Mr Skripal's health had also improved.
During a short address to reporters outside the hospital, she said: "Although he is recovering more slowly than Yulia, we hope that he too will be able to leave hospital in due course."
"They have pulled together, not just to deliver outstanding care to the individuals caught up in these terrible events, but to all our patients as they do day in, day out."
Detective Sergeant Nick Bailey, who was also exposed to the nerve agent, was discharged from the hospital on March 22.
Asked for her reaction to news that Ms Skripal has been released from hospital, Theresa May said: "Well obviously I welcome the fact that Yulia Skripal has been discharged from hospital and I wish her the best for her continuing recovery and I'd like to say a huge thank you to all the staff at the hospital in Salisbury who have looked after her and her father so well."
Russian foreign minister Sergey Lavrov previously said it was "outrageous" that Britain had failed to provide consular access to Ms Skripal as news of her improving condition was announced earlier this month.
The Russian Embassy in London also issued a series of what it termed "questions without answer" about the Skripal case – including whether the UK had ever produced the Novichok nerve agent believed to have been used in the Salisbury poisoning.
Britain has said that Russian state involvement is the only plausible explanation for the attack, and has led a worldwide reaction involving the expulsion of more than 100 diplomats.
But Mr Lavrov accused Western countries of "playing children's games".