A key designed by Charles Rennie Mackintosh to open Glasgow School of Art has sold for £32,000 to help raise funds for the restoration of the fire-damaged masterpiece.
The former owner of the key and auction house Lyon & Turnbull will donate a percentage of the sale to The Mackintosh Campus Appeal, the £32 million fundraising campaign launched following the blaze which badly damaged the Mackintosh Building in May 2014.
Designed by Charles Rennie Mackintosh especially for the opening ceremony of the building he designed, the key was presented to Sir James King, the Lord Provost of Glasgow from 1886–9, by six-year-old Miss Mary Newbery, daughter of Fra Newbery, director of The Glasgow School of Art, who then unlocked the door.
The key, which has not been seen in public since the opening ceremony on December 20, 1899, achieved a hammer price of £32,000 at the sale at Lyon & Turnbull in Edinburgh on Wednesday, with £8000 commission on top.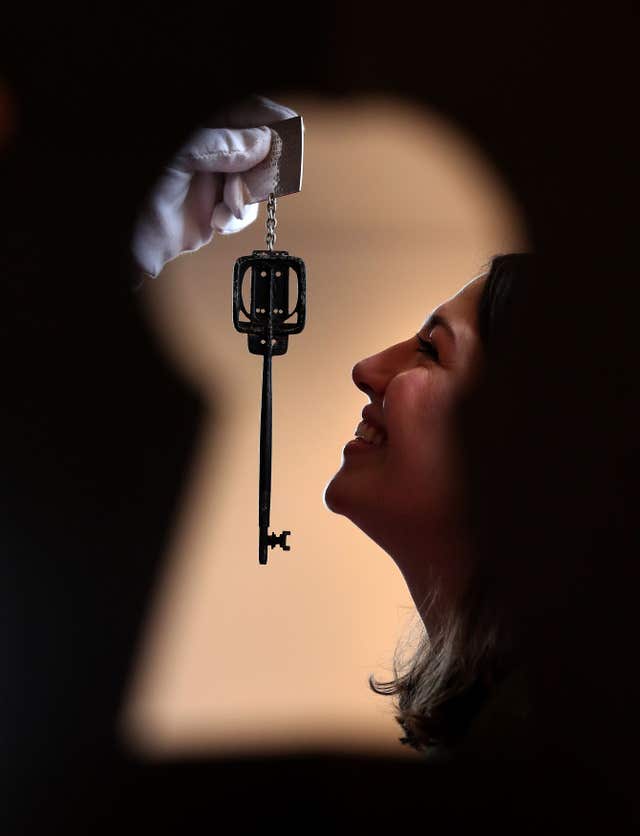 He said "I am delighted that the key will remain in Scotland, it will take pride of place on show at Ardgowan House.
"I have a particular interest in the key and the Glasgow School of Art as one of my forebears was a founding father of the first School of Art in Glasgow, started in 1753 by brothers Andrew and Robert Foulis, a precursor and inspiration to the later Mackintosh School.
"The key is a beautiful object and we look forward to welcoming it to its new home."
The sale took place in the year of the 150th anniversary of Charles Rennie Mackintosh's birth.
Sir James King, who sold the key and is the direct descendant of the Sir James King who opened the building with it, said: "I am delighted that a percentage of today's sale will be donated to the restoration fund for the Mackintosh Campus Appeal.
"My namesake, the first baronet, was twice Lord Provost of Glasgow and a leading business figure in the city of his day.
"If this beautiful and symbolic key can help unlock even just a little support from today's entrepreneurs to restore this Glaswegian cultural masterpiece it will have done its job inspiring future generations."
Remembering the ceremony in later years, Mary Newbery recalled how she was shepherded up to the building carrying a "small, oblong, pale, pearly silk cushion with a silver fringe round" to hold the key.
She said: "This cushion was made by Mrs. Mackintosh and my mother. Thinking about this lately, the formal ceremony would be arranged by my father who had a touch of pageantry.
"He liked formal things done properly. Then the door was unlocked and in we went. There was a feeling of cheerful achievement.
"The thing is the Mackintoshes were perfectionists and they couldn't have an ordinary key. The door had a special plate and to open that interesting door of the new School of Art there had to be a proper key and that key had to be laid on a special cushion."