A top private school headmaster took a "soft" approach to allegations a sports coach was inappropriate with female pupils because he was a "success story", a court heard.
Richard Poulton, headmaster of Christ's Hospital School in West Sussex between 1987 and 1996, told Brighton Crown Court on Thursday complaints against Ajaz Karim were dealt with "in-house" because he was a popular teacher who had been a Ugandan refugee and former pupil.
The 63-year-old, of Hammersmith, West London, denies nine charges of indecent assault and one attempted indecent assault against six girls aged 14 to 18 at the prestigious Horsham school between 1985 and 1993.
He has since worked at Eton College, Queen's Club, The Hurlingham Club, as well as the London branches of Champneys and Credit Suisse.
Allegations include him massaging a student's "virtually naked body" while she lay face down on the floor of his locked study and pushing another up against a wall and kissing her on the lips while he held her arms.
He said he made it "absolutely clear" to Karim his behaviour was unacceptable after the first two were made in 1990.
Then the father of another student wrote to Mr Poulton in 1992, claiming Karim was making unwanted visits to his daughter's room.
Karim left the school in 1993 after what Mr Poulton branded the "last straw" – when another student said she complained of inappropriate massages and kissing.
Dressed in a blue pin-stripe suit, white shirt, blue tie, and using a walking stick, Mr Poulton apologised on several occasions for the "vagueness" of his memory.
When asked why he did not sack Karim, the 75-year-old said: "[Asking for his resignation] was perhaps a soft way of bringing our contract to an end.
"In many ways he was very popular. He was a success story in Christ's Hospital terms having come to us as a refugee and being given an education [before returning to teach]."
Karim's school fees were paid by former pupil Sir Barnes Wallis, inventor of the Dambusters' bouncing bomb, the court later heard.
The school continued to pay his salary for another month after he left.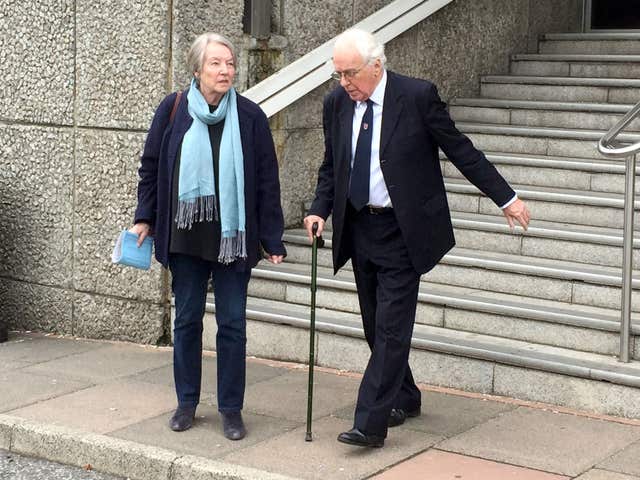 He said police and social services were not involved and claimed deputy head Elizabeth Cairncross – now the principal of Wells Cathedral School in Somerset – mainly handled the complaints and would deal with anything of a "female" or "intimate" nature from students.
He added: "It was totally dealt with by school masters and school mistresses and denied by Mr Karim."
When asked if he knew one of the claims involved Karim giving a student a "full frontal body massage", he said: "Outrageous, I never heard that alleged. I would have reported that to the police even though that was not protocol at that time.
"You obviously have information I don't have and have never had."
Asked if Karim would have kept his job in those circumstances, he said: "Not a chance."
But in a letter to solicitors acting on behalf of Karim in October 1993 – a month after he left – Mr Poulton, referring to complaints by students, said: "Despite possible interpretations of its very explicit contents, I did not charge Mr Karim with sexual harassment.
"Had I done so, and had the charge been proved, he would, of course, have lost not only his job but also his chance of getting another one in any school."
In the note he said two girls had "considered taking legal action but did not wish to be held responsible for destroying [his career].
"They therefore left the matter in my hands, provided they could be reassured that no 'massage' incident in private would occur again.
"I explicitly forbade him to touch girl pupils at all."
When asked in defence cross-examination if he was "covering his back" with the letter, Mr Poulton said: "I didn't see and don't see it was covering my back. I hope I did what was right in the circumstances."
Mr Poulton said the school had no written rule against teachers touching female pupils because it was "so obvious" and "common sense", adding: "It was absolutely clear that it was forbidden."
Male teachers were generally "frightened" of female students as the school had only recently become co-educational, he said.
Asked if he was aware of public interest in how the school handled the allegations, he described this as "inevitable".
The trial previously heard some alleged victims describe how Karim was permitted to continue teaching after their complaints were "poorly handled".
One claimed housemaster Bob Sillett, a member of senior staff, implied she would run the risk of being named in the press if the school dealt with Karim "publicly".
In a letter read to the court from September 1993, Mr Poulton said it was with "great sadness" he accepted Karim's resignation, adding that he had contributed "hugely" to the school and would be "sorely missed".
He also signed a reference in March 1995 in which he recommended Karim "extremely strongly" as a "great all-rounder".
The trial continues on Friday.