A murder investigation has been launched after a girl's body was found in a park.
The teenager was discovered by a member of the public in West Park, Wolverhampton, at around 7am on Thursday.
The victim was pronounced dead at the scene and her family are being supported by specialist officers, West Midlands Police said.
The park was cordoned off by police to allow forensic examinations to take place.
Police divers have been combing a small lake and scenes of crime officers in white forensic overalls have been seen searching parts of the sprawling 43-acre open space throughout the day.
The force has said a post-mortem examination will be held in due course.
Detective Chief Inspector Edward Foster, leading the investigation, said: "The investigation is at an early stage, but we're really keen to hear from anyone who was in or around the park overnight.
"It's vital that we speak to anyone with information, no matter how small it may be."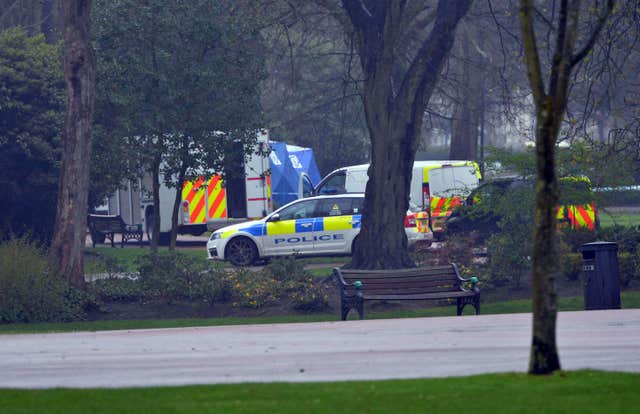 "We fully understand that people will be really concerned about what has happened, but we have a dedicated team of detectives working on the investigation.
"Extra patrols will be taking place in the area and I'd encourage anyone with concerns to speak to their local officers."
A funfair which visits the park every Easter, and has been running this week, is currently closed while the investigations continue.
Meanwhile, a police cordon remains in place with its numerous entry gates pad-locked closed, while crime scene tape can be seen criss-crossing stretches of the park.
Neighbours in the homes that surround West Park have spoken of their shock at news of a murder on their doorstep, and their sympathy for the young victim.
Kash Shenar, 52, said: "It's just horrific.
"Its's a popular park, especially now it's Easter holidays so lots of kids have been going in and they've also had the fair on.
"It was busy as well anyway last night as the (Wolves) match was on."
Nick Wright, 19, who lives a stone's throw from the green iron gates which ring the park said: "I heard it was a young girl, and it's just really sad."
"There's a hut and it attracts drug addicts, and drinkers – alcoholics.
"It is a no-go area and we don't really go there ourselves now because of that, we just take our kids to the play area.
"The park itself is lovely, but it's just that part that we avoid."
Jocelyn Evans, 63, of West Park Road, said in the 25 years she had lived there, there had never been a murder.
She said: "The park is locked up at dusk and it opens at dawn.
"It is such a shock, it is just horrendous.
"It's a young girl as well."
Mrs Evans added that they get prostitutes around the park, and homeless people trying to climb the gates to get into the shelters which dot the green space, but no real trouble.
She added: "I really can't believe it, I've lived here 25 years, and used the park all through that time, and I'm just speechless."
Her 30-year-old son, Christopher Evans, said: "It's disgusting what has happened, it's out of order and it's worrying.
"I have a six-year-old son, and I cannot imagine what her parents must feel like.
"I hope they catch whoever did it."