The father of Alfie Evans has said he still hopes to take his terminally ill son to Italy.
Speaking outside Alder Hey Children's Hospital in Liverpool on Friday, Tom Evans, 21, said he had a jet chartered to take the 23-month-old for treatment on Thursday night but had been stopped by the hospital.
Hundreds of protesters gathered outside the hospital on Thursday, a day after judge Mr Justice Hayden endorsed a plan for Alder Hey doctors to withdraw life support treatment from the child.
Speaking on behalf of himself and his partner Kate James, 20, Mr Evans said: "Yesterday we attempted to discharge our son Alfie Evans from the care of Alder Hey, legally, by formally withdrawing their duty of care."
He stated the hospital had "falsely claimed" Alfie was a ward of court and the delay meant the youngster had missed the flight, which was chartered from Liverpool John Lennon Airport.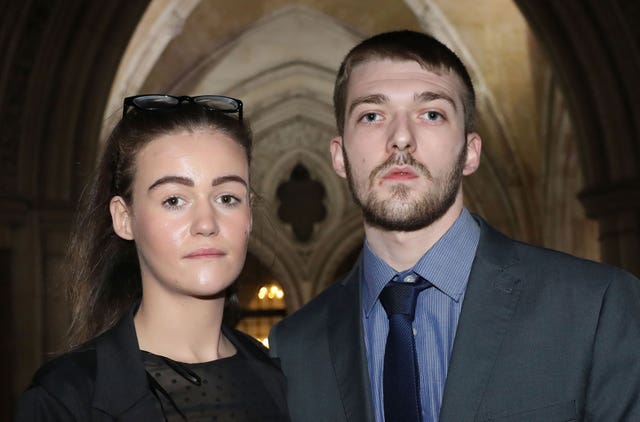 He added: "We want to know why they are fighting so hard and what are they trying to hide."
Mr Evans said an appeal would be heard on Monday and the family hoped to go to Italy for treatment next week.
He said: "If he stays here and dies, he dies, if he goes and he dies at least he has died a hero, trying."
The couple, from Liverpool, have asked the courts to allow Alfie to continue to receive treatment but have already lost fights in the High Court, Court of Appeal, Supreme Court and European Court of Human Rights.
Merseyside Police said the protest on Thursday was peaceful but "did cause significant traffic disruption and inconvenience for other people trying to access the hospital".
On Friday some protesters gathered outside the hospital, on East Prescot Road, with banners in support of Alfie.
A spokesman for Alder Hey Children's NHS Foundation Trust said: "Alfie's clinical condition is truly heart rending but at each stage of the legal process which has to be followed in such cases, the courts have agreed with the treating team and the independent expert advisers instructed by the trust and the family that Alfie's condition is irreversible and untreatable.
All treatable conditions have been diagnosed.
"All the experts agree that it will not assist Alfie to subject him to further tests in order to identify a diagnosis.
"As part of that process, his parents are making further appropriate representations to the Court of Appeal to present their views.
"Last night Mr Justice Hayden ordered that Alfie cannot be removed from Alder Hey Children's Hospital pending the hearing before the Court of Appeal on Monday."
The hospital called for the public to respect the decision and allow staff to continue caring for Alfie.
The spokesman added: "Unfortunately the action taken last night and the behaviour of a small minority of supporters impacted very negatively on other patients, families and staff at Alder Hey.
"We would therefore be grateful if all respect and consideration is shown to all our staff, patients and families at the hospital."