Serbian political activist Srdja Popovic has pledged to "empower students" as he was installed as the rector of the University of St Andrews.
Mr Popovic was installed as the university's 53rd Rector in a ceremony at the Younger Hall, before a procession through the streets of the Fife town.
The official installation ceremony followed the traditional student "drag" on Wednesday, which saw students lead the new Rector on a six-hour tour of student halls and local hostelries in a day of celebration.
Mr Popovic follows in the footsteps of a long list of illustrious former Rectors, including authors J M Barrie and Rudyard Kipling, Monty Python founding member John Cleese and Catherine Stihler MEP.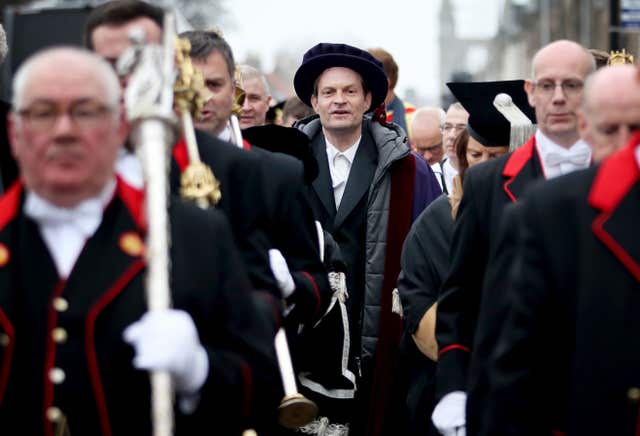 "I am ready to commit my term to listening to the students and turning their initiatives into concrete action.
"The position of the Rector belongs to the students, and it will be my goal to empower students to use it in their best interest."
Mr Popovic is the founder and executive director of the Centre for Applied Nonviolent Actions and Strategies (Canvas), a non-profit organisation based in Belgrade, Serbia, that aims to teach the use of nonviolence to make a change.
He was appointed Rector in November 2017 for an initial three-year term.
Lewis Wood, President of the St Andrews Students' Association said: "The Rector's Installation is a day of celebration to welcome Srdja to the University community.
"Srdja's campaign and vision for St Andrews inspired a lot of students last October and we look forward to inducting him into our traditions and culture.
"Both myself and the student body wish him all the best for the three years ahead, and look forward to working closely with him."
The Rector has been elected by the students since 1858.
In addition to being President of the University Court, the highest governing body of the University, the Rector also plays an informal, pastoral role for students.