The joint bombing campaign in Syria was hailed a "success" by Theresa May, Donald Trump and Emmanuel Macron in talks by telephone on Saturday afternoon.
Britain launched cruise missiles as part of the co-ordinated military operation with the United States and France in response to the chemical weapons attack in Douma one week ago.
Mr Trump declared it was "mission accomplished" and thanked the UK and France "for their wisdom and the power of their fine military".
In separate calls, the Prime Minister spoke to the US and French presidents to discuss the offensive.
"The three leaders agreed that the military strikes taken against the Syrian Regime's chemical weapons sites had been a success," a No 10 spokesman said.
Speaking in Brussels, he told reporters: "Before the strikes took place last night, Nato allies exhausted all other possible ways to address this issue through the UN Security Council by diplomatic and political means.
"Since this was blocked by Russia there was no other alternative than to react the way they reacted at this time."
Mr Trump said the joint strikes against the Syrian regime were "perfectly executed".
He added: "Could not have had a better result. Mission Accomplished."
Speaking at Number 10,  Mrs May said action was "legal" and defended the decision to go ahead without securing the backing of Parliament.
She insisted that joining the military campaign was the "right thing for us to do" in the wake of the "harrowing" assault on the Syrian rebel-held town.
The Prime Minister also warned Russia that the air strikes should act as a warning over its use of chemical weapons.
But she was accused of "riding the coat-tails of an erratic US president" by the Liberal Democrats, and "taking instructions" from Washington by Labour.
Four Royal Air Force Tornado GR4s joined the co-ordinated missile strikes at 2am, launching Storm Shadow missiles at a base 15 miles west of Homs.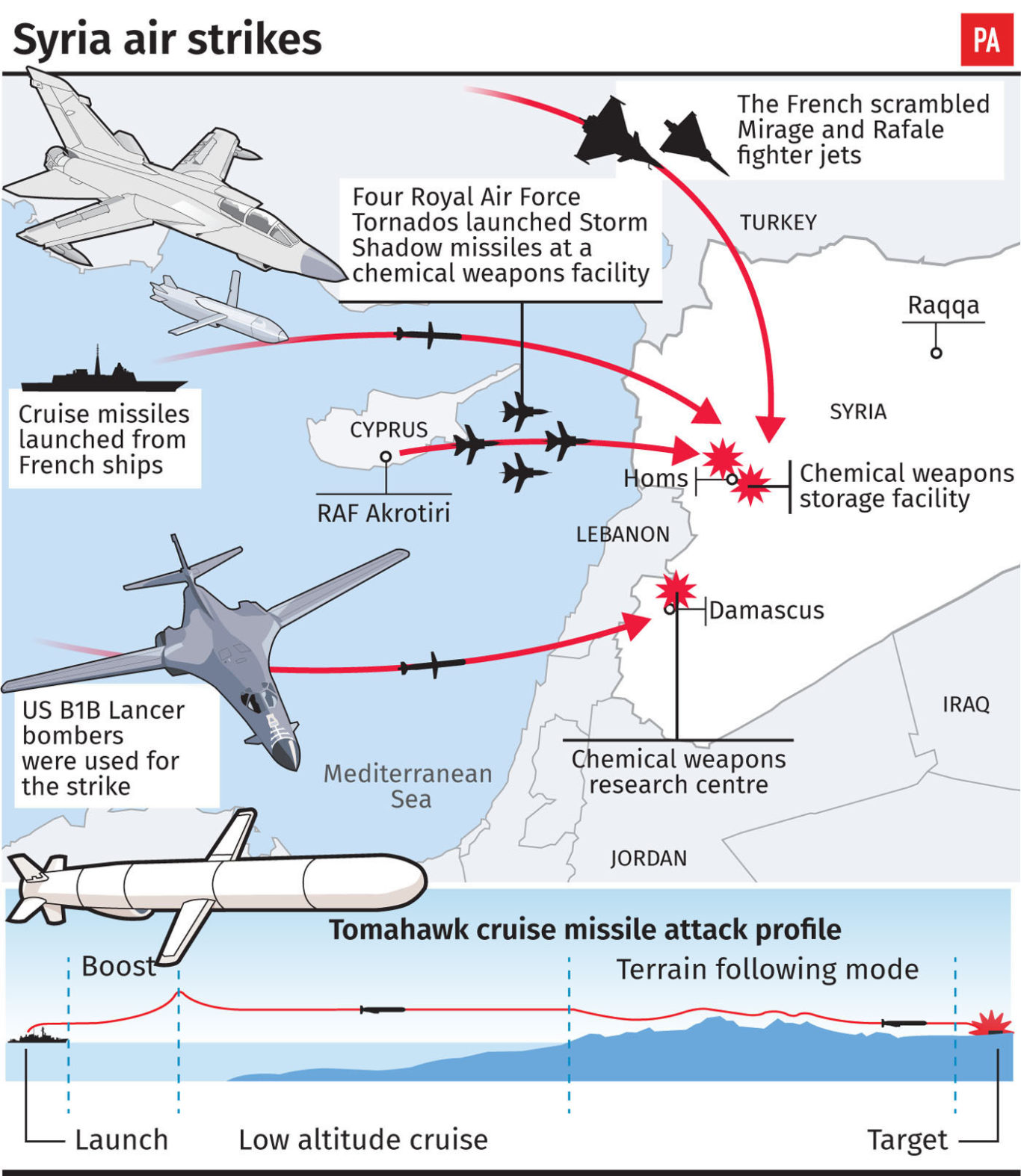 She added: "We agreed that is was both right and legal to take military action together with our closest allies."
But she also drew a link with the nerve agent attack on Russian former spy Sergei Skripal and his daughter Yulia in Salisbury.
Looking drawn as she spoke to reporters in Downing Street in a hastily arranged press conference, she said: "We cannot allow the use of chemical weapons to become normalised – either within Syria, on the streets of the UK or elsewhere."
Russian President Vladimir Putin said the strikes were an "act of aggression" that would have a "destructive" influence on international relations.
Asked if the action had also been a warning to Russia, Mrs May said: "The action that took place last night was an action which was focused on degrading and deterring the operational capability and the willingness of the Syrian regime to continue to use chemical weapons.
"There have been many instances when we have seen them using those chemical weapons.
"But I believe it should also be a message to others that the international community is not going to stand by and allow chemical weapons to be used with impunity."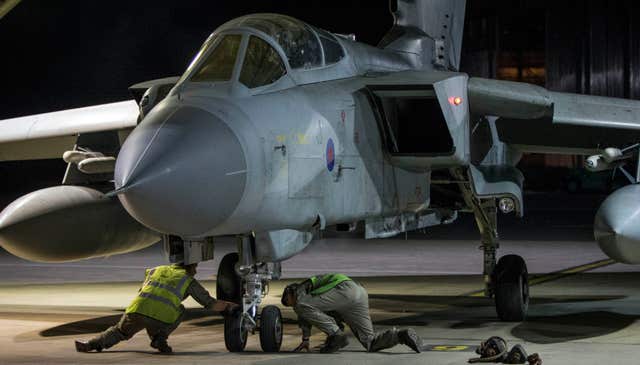 At an emergency meeting of the UN Security Council, US ambassador Nikki Haley warned if there was further use of chemical weapons in Syria,  America is "locked and loaded".
A bid by Russia to garner votes for a resolution condemning the "aggression" in Syria was roundly defeated.
The PM has not ruled out further action if Syria continues to use chemical weapons.