Labour would refuse to back any action in Syria unless it had the backing of Russia, Jeremy Corbyn has said as he called for laws to stop the Government acting without the backing of MPs.
Theresa May will go before the Commons on Monday to explain why she ordered British cruise missile attacks on Syria as part of a joint operation with the United States and France.
But Mr Corbyn called for the introduction of a War Powers Act to stop governments launching military action in most circumstances without the backing of MPs.
Russia has repeatedly used its UN veto to block sanctions and investigations during the bloody civil war in Syria.
Asked if there were any circumstances in which he would back air strikes in Syria, Mr Corbyn told BBC One's The Andrew Marr Show: "I can only countenance involvement in Syria if there is a UN authority behind it.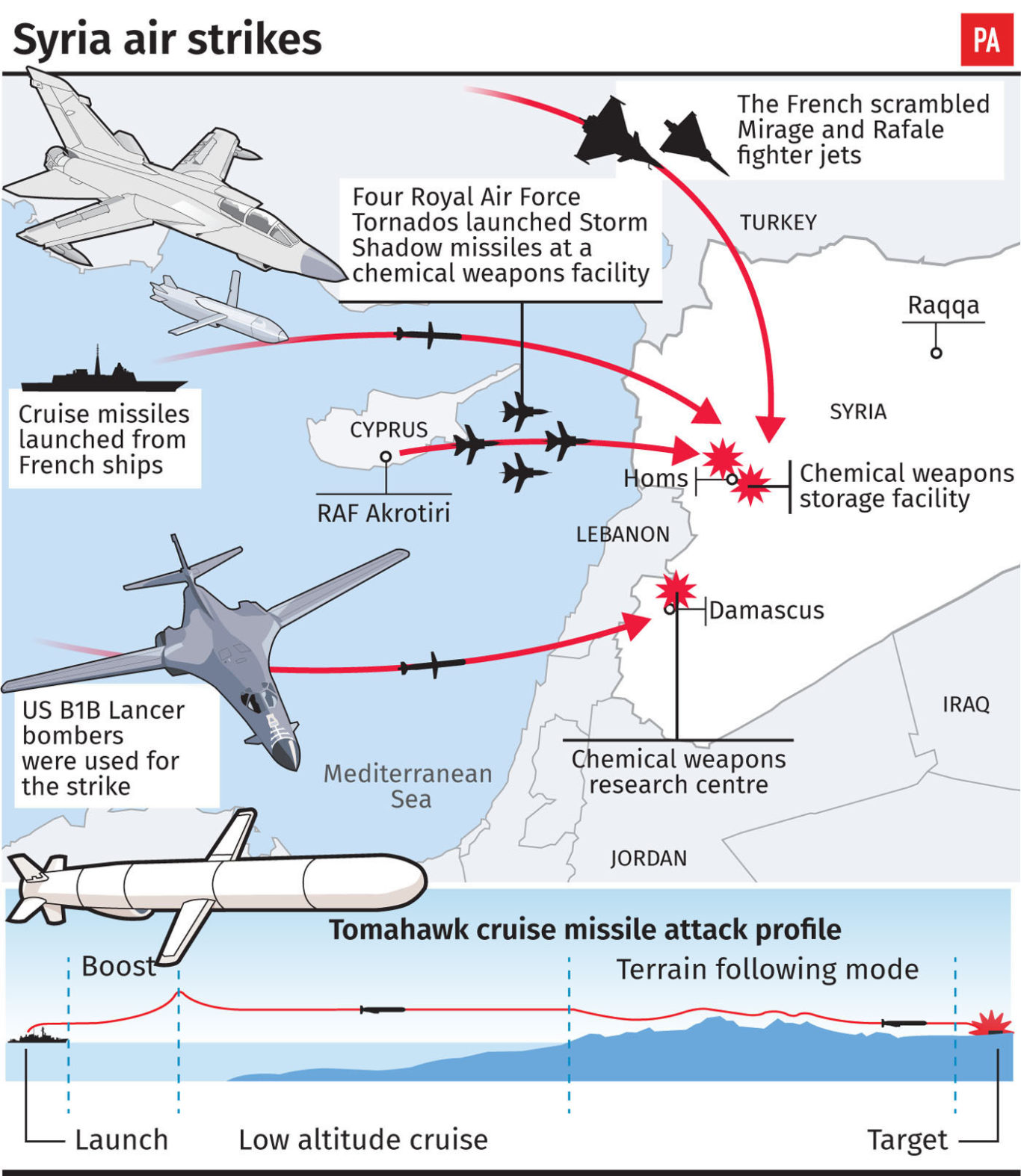 Shadow foreign secretary Emily Thornberry said taking military action against Bashar Assad's regime had been the "wrong thing to do".
She told ITV's Peston On Sunday: "We think that it should be in law that there should be a vote in Parliament before we take military action.
"Not urgent cases. Clearly not when we are under attack or the Prime Minister has been kidnapped, or anything like that."
But David Lidington, the Prime Minister's deputy, said there were "no plans" for legislation.
The Cabinet minister said he was "not going to rule anything in or rule anything out" about whether the Government would give MPs a vote if fresh action was taken in Syria.
Mr Johnson told Mr Marr: "There is no proposal on the table at the moment for further attacks because so far – thank heavens – the Assad regime has not been so foolish to launch another chemical weapons attack."
"If and when such a thing were to happen then clearly, with allies, we would study what the options were," he added.
Russia lost its bid to secure a resolution at an emergency meeting of the United Nations Security Council condemning the "aggression" in Syria.
US ambassador Nikki Haley told the meeting President Donald Trump has warned that America is "locked and loaded" if there is further use of chemical weapons in Syria.
Mrs May insisted the decision to deploy British cruise missiles in response to the chemical attack in Douma was "both right and legal".
She spent the evening calling world leaders, including key regional figures such as Saudi Crown Prince Mohammad Bin Salman, King Abdullah of Jordan, and President Recep Tayyip Erdogan of Turkey, to explain why she had ordered British military involvement in the US-led strikes.
Mr Trump declared it was "mission accomplished" after the "perfectly executed" operation.
Nato allies have given the action their full support, secretary general Jens Stoltenberg said.
Most voters believe the Prime Minister was wrong to order bombing raids on Syria without parliamentary approval, according to a Survation poll for the Mail on Sunday.
It found that 54% opposed the move compared with 30% who backed Mrs May.
But 46% still believed she was better than Mr Corbyn on dealing with an international crisis, with just 26% backing the Labour leader.
Speaking in Number 10, Mrs May insisted the action was "legal" and defended the decision to go ahead without securing the backing of Parliament.
She also warned Russia that the air strikes should act as a warning over its use of chemical weapons.
Four Royal Air Force Tornado GR4s joined the co-ordinated missile strikes at 2am, launching Storm Shadow missiles at a base 15 miles west of Homs.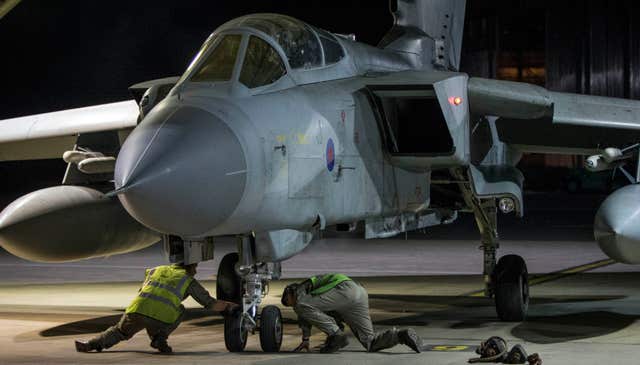 She added: "We agreed that it was both right and legal to take military action together with our closest allies."
– Survation interviewed 2,071 people online on Saturday for the Mail on Sunday.