Grand National winner Tiger Roll received a hero's welcome as the champion horse and his trainer Gordon Elliott were treated to a rapturous homecoming in the village of Summerhill in County Meath on Sunday.
A remarkable eight-year-old, Tiger Roll added the world's greatest steeplechase to his CV when hanging on in a dramatic finish to emerge victorious by a head from the strong-finishing Pleasant Company, trained by Willie Mullins.
In doing so he gave trainer Elliott a second win in the Aintree spectacular, after Silver Birch in 2007, and was adding to his three triumphs at the Cheltenham Festival.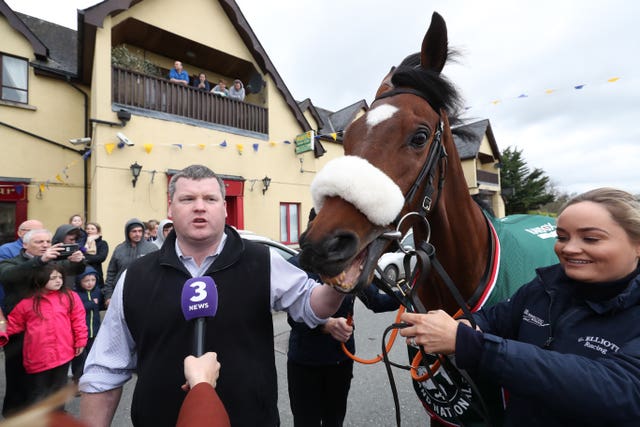 Elliott said: "It's unbelievable and it's only sinking in now when you get home and see all your family, friends and the crowd here in Summerhill.
"It's some buzz and it'll be a long night!"
Looking back on the race itself, he said of the Davy Russell-ridden winner: "Two hundred yards out I thought we were home and hosed and we were going to hose up. In fairness, he's only a small horse and in the last 50 or 100 yards he just hit a brick wall.
"Thankfully the line came in time. I wasn't sure he had won. When you aren't sure of the angles at a track, you are always very nervous. If it was in Ireland I could tell you the angles of every track.
"It was just a feeling of relief and it's great."
He added: "He's been a super little horse to win at three Cheltenham Festivals and then come back and win an English National. I'm very proud of him.
"We have good staff at home and Gerry Kelly the vet did a lot of work with him and also the physios. Everyone has done a great job with him.
"The girls will tell you he's a bit like a tiger at home. He can be in very good form or very bad. In fairness, he's allowed to be in bad form as much as he wants because he's a great horse.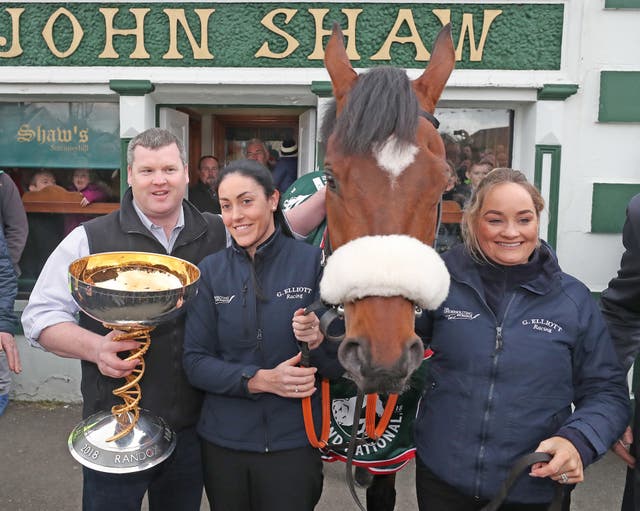 "We stood over in the middle of the track, so we could see the big screen, and it was a good spot to watch it.
"He's unbelievable. Everyone goes on about his size, but I think it's just all about his heart, he has just so much heart and leaves nothing behind.
'He's a star. He's grumpy, but very lovable. He's a little character. He'd let you know if he didn't want you in the stable. He's a funny, little quirky horse, but he's lovely."