Britain will bask in sunshine and warm temperatures this week as the country looks set to see the hottest day of the year so far.
As the UK experiences its first taste of spring, just weeks after snow swept across many areas, the mercury could rise to up to 10C above the average for April, the Met Office has said.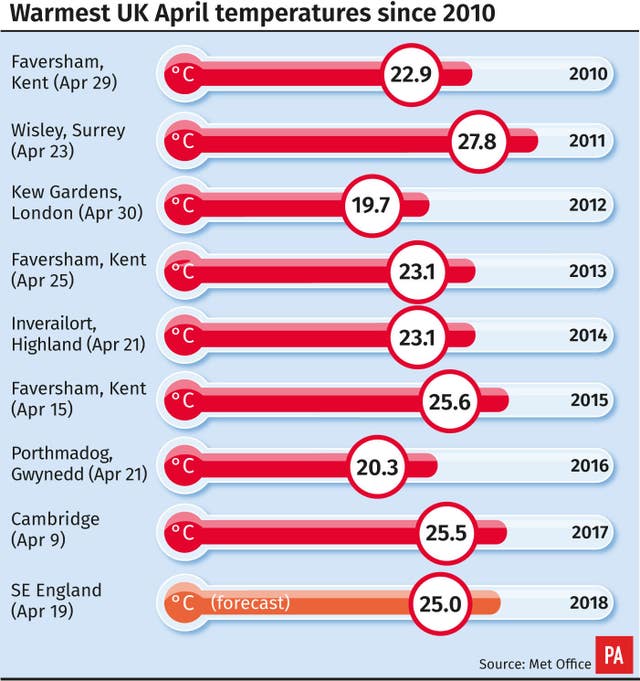 With cloud and rain poised to affect Wales, northern and western England, Scotland and Northern Ireland over Monday night and into Tuesday, he warned it could be "quite windy in the west".
Mr Burkill said the best of sunshine and warmth on Tuesday will be in the South East, where temperatures of 18C (64.4F) or 19C (66.2F) could be recorded.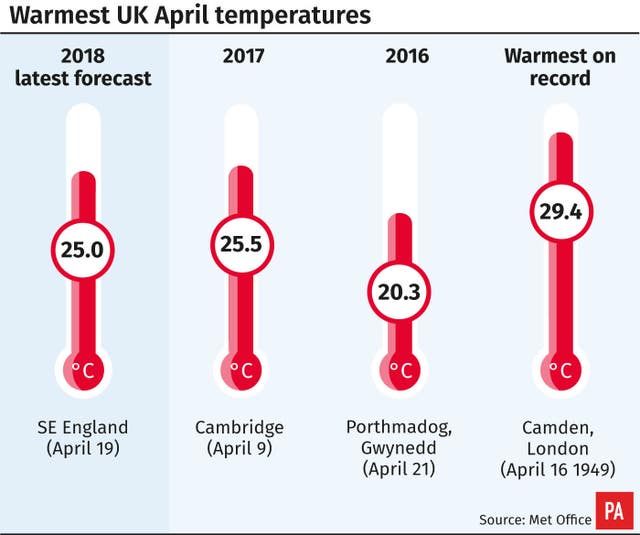 "On Wednesday it will be mostly dry and rather sunny for most places, but there will be some rain affecting Northern Ireland, Scotland and perhaps some parts of northern England too.
"But for many central and eastern parts of the UK it is going to be a dry and very sunny day and, with that, temperatures creeping up as well."
Mr Burkhill said the rest of the week will also get warmer, and revealed that on Wednesday there could be highs of up to 22C (71.6F).
"Thursday is probably going to be the warmest day – we could get highs of 24C (75.2F) or 25C (77F) (in the South East)," he said.
"Apart from a bit of showery rain across parts of Scotland perhaps, Thursday is looking like a dry and sunny day … with temperatures quite widely getting above 20C (68F)."
With average maximum temperatures for April across the UK around 11.5C (52.7F) and around 13C (55.4F) for southern England, Mr Burkill said it will be a "good 10C above average".
Thursday's warm blast will see parts of the country be hotter than some European destinations, including Malaga in Spain at 21C (69.8F) and Athens in Greece at 23C (73.4F).
Mr Burkill said it is "not especially" unusual to see such temperatures, adding: "Quite often we would have already gone above 20C by this time in the year.
"It is quite normal for spring to be like this and to bring some colder spells and some temperatures like this."
He revealed that the warm and sunny weather looks set to continue into the weekend, but that it may be a little cooler, and said there could be some rain pushing in from the west by Sunday.