Theresa May has apologised to Caribbean leaders over the treatment of members of the so-called "Windrush generation" who have been threatened with deportation after decades living in the UK.
At talks in No 10, the Prime Minister said she was "genuinely sorry" for the anxiety that had been caused and that she wanted to dispel the idea that the Government was seeking to clamp down on citizens from the region.
Mr Lammy said Ruth Williams, who is in her 70s, had told him that her son Mozi Haynes, 35, was due to be removed from the country after two failed applications to remain.
"This is a national disgrace. What is going on in the Home Office makes me ashamed of our great country. The Prime Minister must act urgently to halt this deportation and all other Windrush deportations," Mr Lammy said.
"Heads must roll over this and the Home Secretary and Immigration Minister must consider their positions."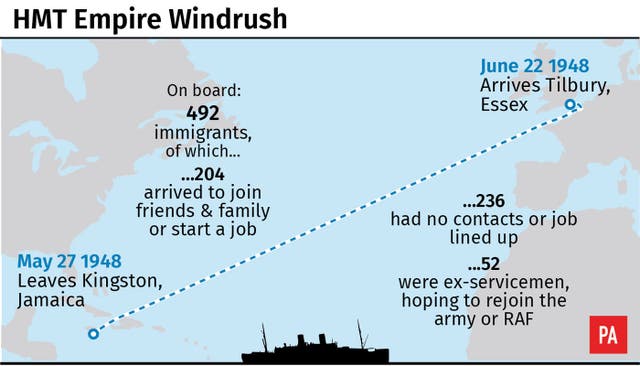 Ms Rudd announced she was setting up a taskforce to help people – many of whom came to Britain as schoolchildren as long ago as the 1940s – to regularise their immigration status following warnings they could be deported unless they could prove they were entitled to be in the UK.
Amid rising anger, Mrs May met leaders of 12 Caribbean countries who were attending the Commonwealth Heads of Government Meeting in London for talks in No 10 on Tuesday.
The Prime Minister said the Government accepted those who arrived from the Caribbean before 1973 – when new rules came in – and who had been living in the UK without significant time away were entitled to remain, as were the "vast majority" who arrived subsequently.
"I want to dispel any impression that my Government is in some sense clamping down on Commonwealth citizens, particularly those from the Caribbean," she said.
"I take this issue very seriously. The Home Secretary apologised in the House of Commons yesterday for any anxiety caused.
"And I want to apologise to you today. Because we are genuinely sorry for any anxiety that has been caused.
"I don't want anybody to be in any doubt about their right to remain here in the United Kingdom."
Earlier Cabinet Office Minister David Lidington said officials were now trawling through the Home Office records to establish whether any of those affected had already been wrongly deported.
While he said they were not aware of any who had been removed from the country, staff were going through the files to establish whether anything had gone "appallingly wrong in that way".
His comments came amid confusion on Monday, after immigration minister Caroline Nokes appeared to suggest that some individuals may already have been deported in error.
Ms Rudd later told MPs she was not aware of any specific cases.
Mr Lidington told BBC Radio 4's Today: "I talked to the Home Secretary about this last night and the position is that we have no information.
"We don't know of any cases where someone has been deported from this category."
Mr Lammy said that Ms Williams had told him her son's treatment made her feel "betrayed and a second-class citizen in my own country".
He said that she told him: "This makes me so sad and the Home Office must show some compassion.
"I am unwell and almost 75, I live on my own and I need my son to stay here. I need my family around me and I can't face being alone."