The pound hit its highest level against the US dollar since the Brexit vote as a weak greenback and prospects of a near-term interest rate hike by the Bank of England supported the UK currency.
Sterling was holding its ground at 1.435 versus the dollar on Tuesday morning, up nearly 0.2%, having first risen to those levels during Asian trading overnight.
It is the strongest level recorded for the pound since the EU referendum result was announced on June 24 2016, which sparked a sharp decline from a high of 1.50 against the US currency.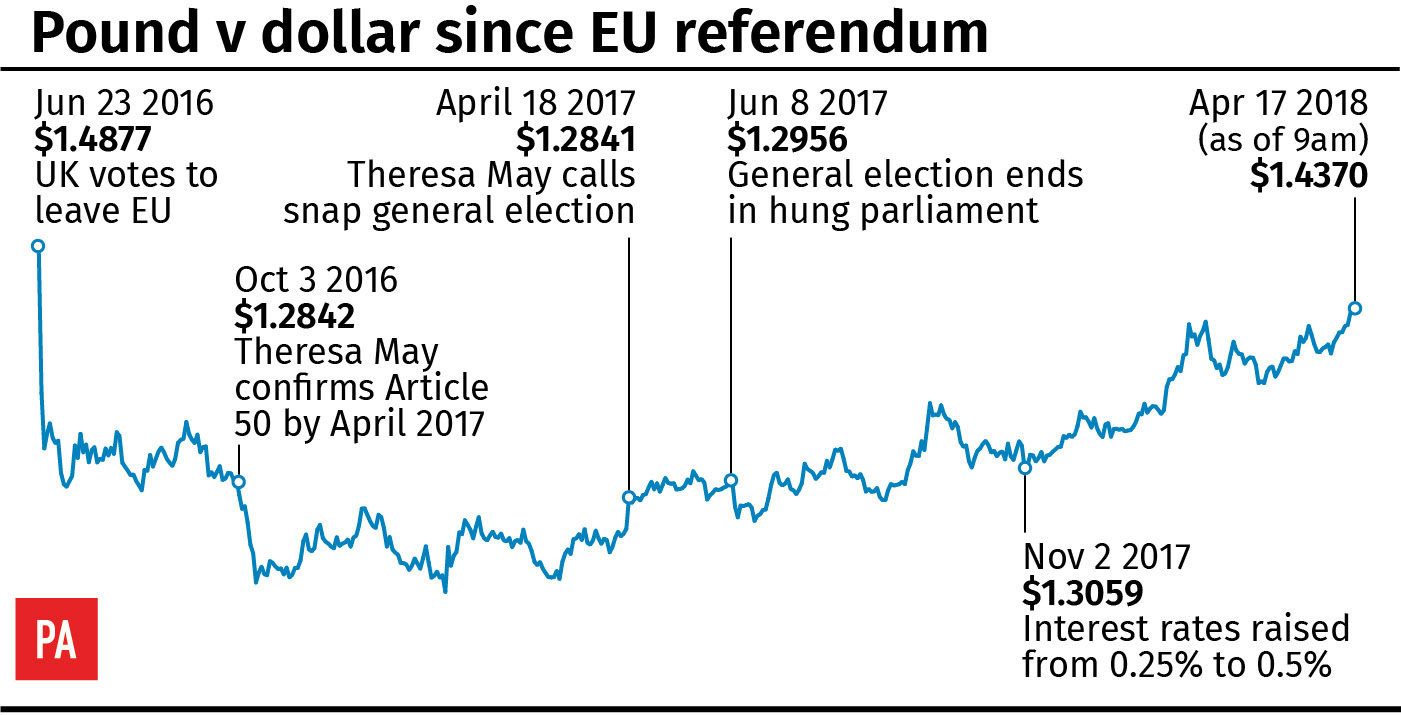 Experts said anticipation of an interest rate hike on the back of Tuesday's jobs data was helping support the pound.
The research team, led by Jasper Lawler at London Capital Group, said: "Overnight the pound struck 1.435 US dollars, its highest level since the Brexit referendum in anticipation of a more hawkish BoE (Bank of England) at the next MPC (Monetary Policy Committee) meeting in May.
"Traders are looking optimistically towards today's UK jobs data, with expectations that it will support a spring rate rise by the central bank.
"Whilst UK unemployment is forecast to remain constant at 4.3%, average earnings are forecast to hit 3% in the three months to February.
He said a strong reading stands to "pile the pressure" on the Bank of England as "good inflationary pressures pick up".
Last month, two of the nine Monetary Policy Committee (MPC) members voted to hike rates to 0.75%, marking the first split vote since last November when rates were raised from 0.25% to 0.5%.
Despite keeping rates on hold, the committee said that "ongoing tightening of monetary policy" would be needed to bring inflation back to the Bank's 2% target.
It confirmed earlier comments from Governor Mark Carney, who said rates would need to rise "somewhat earlier and by a somewhat greater degree" to bring CPI back on track.
Experts widely believe rates will rise in May and possibly again in November, with another due in 2019, which would see rates climb to 1.25% next year.
Dollar weakness also played a part in driving the UK currency higher, having fallen on the back of further social media posturing by US President Donald Trump.
Michael Hewson, chief market analyst at CMC Markets UK, said: "The US dollar continued to sink yesterday, pressured to some extent by a rather bizarre tweet from President Trump that claimed that Russia and China were playing a devaluation game with their currencies, when the evidence doesn't support that assertion at all."