British lives would be compromised if it became illegal for governments to launch military action without the backing of MPs, Theresa May has warned, as she was accused of showing a "flagrant disregard" for Parliament.
The Prime Minister said Jeremy Corbyn's calls for the introduction of a War Powers Act would "seriously compromise" national security, national interests, and the lives of citizens at home and abroad.
But the Labour leader, opening the second emergency debate in as many days on Britain's role in missile strikes on Syria's chemical warfare facilities, said Mrs May's predecessor, David Cameron, had sought authority for military action on several occasions.
Several Labour MPs defied Mr Corbyn's request to vote against the emergency debate motion, as the Opposition sought to express its dissatisfaction at the Government's treatment of Parliament in relation to the military action in Syria.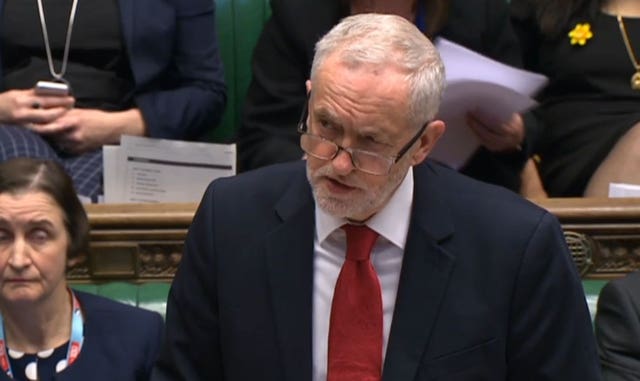 It was initially tabled by Labour to secure the debate and was supported by 307 Conservatives and 10 DUP MPs.
Of Labour's 259 MPs, 205 voted against the motion – in line with Mr Corbyn's request – with two also acting as tellers for the noes.
Opening the debate, Mr Corbyn said: "I am sorry to say the Prime Minister's decision not to recall Parliament and engage in further military action in Syria last week showed a flagrant disregard for this convention."
But Mrs May defended her decision to take action without seeking Parliament's approval, saying that coming to the Commons beforehand would have compromised the "effectiveness of our operations and safety of British servicemen and women".
And she said a War Powers Act would mean smaller-scale and targeted military action such as that over the weekend in Syria "would become unviable".
"Making it unlawful for Her Majesty's Government to undertake any such military intervention without a vote would seriously compromise our national security, our national interests, and the lives of British citizens at home and abroad," Mrs May said.
"And for as long as I'm Prime Minister, that will never be allowed to happen."
Tory MP Andrew Bridgen drew laughs in the Chamber with a sideswipe at Mr Corbyn, suggesting the Labour leader would not authorise military action even if the Isle of Wight were invaded.
And Mrs May attracted cheers from the Tory benches with her response to a question from Labour MP Karen Lee, who suggested US President Donald Trump had more say over UK foreign policy than MPs.
Concluding her speech, the Prime Minister said a "clear majority" of the Commons believe the Government "did the right thing".
"I realise that for some in this House, and especially for those who have not had to do what I have to, the attractive purity of a democratic principle that Parliament should always decide may still appeal more than the practice of how to ensure an effective military operation that delivers our national interest."
But she said she hoped MPs could agree on her "commitment as Prime Minister to being held to account by this House for the decisions that I've taken".
SNP Westminster leader Ian Blackford criticised the "failure" of the Government to recall Parliament, adding that it was to be "deeply regretted" that the "only people that haven't had a voice" were MPs.
He said: "Nobody is talking about compromising operational activity, it's about the principle of Parliament giving its consent to military action."
On Monday, Mrs May accused Moscow of preventing inspectors for the Organisation for the Prohibition of Chemical Weapons (OPCW) reaching Douma.
Russian officials at OPCW headquarters in the Hague later said arrangements were being made for the inspectors to travel to the site on Wednesday.
Russian foreign minister Sergey Lavrov flatly denied that Russia had "tampered" with the evidence and insisted there was no proof that chemical weapons had even been used in Douma.
In the wake of the furious row over the poisoning of former double agent Sergei Skripal and his daughter, Yulia, in Salisbury, he said East-West relations were now worse than they were at the time of the Cold War.
Meanwhile, the UK and US have issued an unprecedented joint alert on the threat of "malicious cyber activity" by the Russian state.
Britain's National Cyber Security Centre (NCSC) combined with the FBI and the US Department of Homeland Security to say Kremlin actions threaten "our respective safety, security and economic well-being".
Officials said "millions" of computers worldwide had been targeted in operations designed to "support espionage… and potentially lay a foundation for future offensive operations".