Pressure is mounting on Metro Bank chairman Vernon Hill after an influential advisory group urged shareholders to oppose his re-election amid growing anger over multi-million pound payouts to his wife's architecture firm.
Glass Lewis is recommending that investors vote against the founder's reappointment at next week's annual general meeting (AGM) over "related party transactions".
It refers to the near £4.6 million in fees paid by Metro Bank to Shirley Hill's business InterArch in 2017 for architectural design services as well as branding, marketing and advertising.
The lender has now shelled out around £21 million to Mrs Hill's firm, based on accounts filed between 2010 and 2017.
If opposition to Mr Hill's reappointment tops 50%, it means the chairman would be forced to resign as the vote is binding.
"We question the need for the company to engage in business relationships with its directors and their close relations," Glass Lewis said in its report.
"We view such relationships as potentially creating conflicts for directors, as they may be forced to weigh their own interests in relation to shareholder interests when making board decisions.
"In addition, a company's decision regarding where to turn for the best products and services may be compromised when doing business with a firm so closely related to one of the company's directors," it added.
Metro Bank defended its use of InterArch services, saying the audit committee had a "strong review and bench marking process" in place, which was conducted by independent third parties to ensure that the terms  were favourable for the bank.
"This process has been in place since Metro Bank's inception and is disclosed in our annual report."
Glass Lewis also cited reports which suggested Mr Hill took up the role as chairman in 2013 despite the now-defunct Financial Services Authority (FSA) twice opposing his appointment, and noted that he was "previously forced to step down from the US bank he founded for related party transactions of a similar nature to those disclosed in the annual report."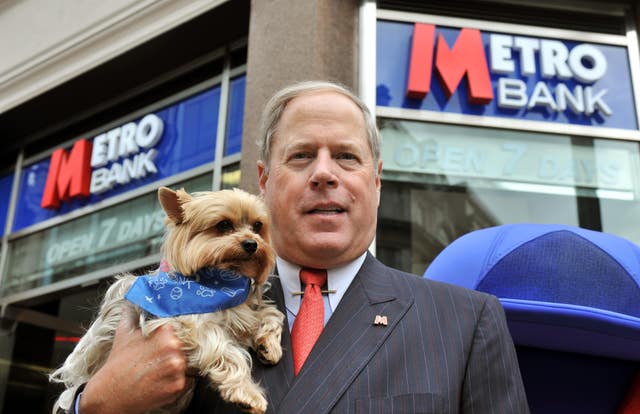 Glass Lewis' report echoes concerns raised by Royal London Asset Management last week.
Royal London, which holds a 0.44% stake in Metro Bank worth £13.6 million, is prepared to vote against a raft of resolutions at the AGM including the re-election of Mr Hill and the lender's remuneration report, citing a lack of transparency around performance targets for executive pay.
However, a shareholder vote around the remuneration report is only advisory.
Fellow advisory group Institutional Shareholder Services (ISS) has backed Mr Hill, but is urging investors to vote down the remuneration report following a "significant salary increase" for chief executive Craig Donaldson – who in total took home £1.5 million in 2017, an increase on £1.3 million for 2016.
As of April 1, Mr Donaldson's basic salary rose from £650,000 to £750,000.
"A significant salary increase (15%) has been awarded to the CEO, and the explanation provided by the company is not particularly detailed," ISS said in its own report.
"Disclosure around the bonus plan continues to significantly lag market standards, among other structural concerns with the scheme," ISS said.
Metro Bank said the salary increase followed a "comprehensive review" and reflected "the value he brings to the company and also the increase in the scale and complexity of Metro Bank and his role as CEO."
"In addition, it is worth noting that the CEO did not receive a salary increase in 2017."
Glass Lewis opposed Mr Hill's election last year, when he saw 5.2% of votes cast against the chairman and 0.67% abstain.
Just over 5% of votes were cast in opposition to Metro Bank's remuneration report in 2017, while 4.53% shot down the remuneration policy.
Metro Bank's AGM will be held in London on April 24.