Demonstrators have rallied outside Parliament to protest against the Indian prime minister as he met Theresa May as part of the Commonwealth Heads of Government summit.
Protesters said India was becoming a "Hindu supremacist place" under the leadership of Narendra Modi, citing rising violence and rapes, as they gathered in Parliament Square on Wednesday.
In particular they highlighted case of Asifa Bano, an eight-year-old girl recently raped and murdered in Kathua, Kashmir, with chants of "Modi go back", "Modi out out" and "Justice for Asifa".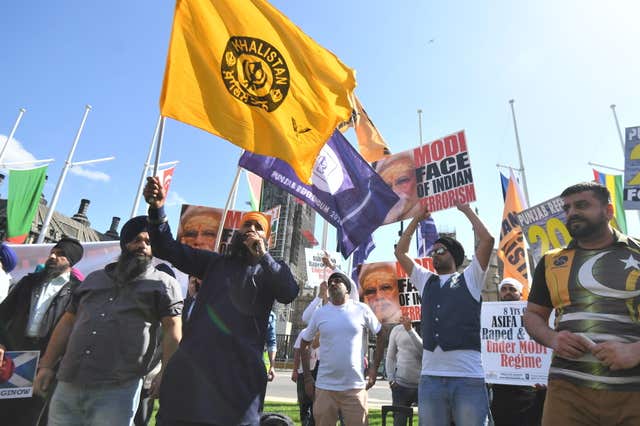 "We feel that the rape and murder in Kathua is an example of this.
"What we are seeing is our country being transformed into a fascistic Hindu supremacist place – something we are not willing to tolerate."
A large counter-demonstration of pro-Modi supporters later gathered across the road outside Westminster Abbey at about noon, chanting "We love Modi," and "Modi, saviour of India".
The groups were separated by columns of police officers.
Abdul Rasheed Turabi, a member the Kashmir Legislative Assembly, who travelled to London, said: "We are here in solidarity with our suffering brothers who are being killed in hundreds and thousands by the Indian forces.
"There are no basic human rights and no international media to cover the story there so I have come here."
Ejaz Khan, who lives in London but is originally from Kashmir, added: "The protest is about two things: we want the Indian army out of Kashmir because of the violence and we want to tell the Western countries that they are not doing enough."