A BBC reporter who broke a story about Sir Cliff Richard's home being searched by police following an allegation of sex assault has told a High Court judge how he guessed the singer's name after a contact told him police were looking at "just one more major figure".
Dan Johnson said he had heard "previous rumours" about Sir Cliff, and he was determined to protect his confidential source".
Sir Cliff has sued the BBC over coverage of the South Yorkshire Police search, which was staged after a sex assault allegation, in August 2014 and wants damages at "top end" of the scale.
He has told a judge that the coverage was a "very serious invasion" of his privacy.
The BBC disputes his claims.
Bosses say coverage of the search of the apartment in Sunningdale, Berkshire, was accurate and in good faith.
Mr Justice Mann is overseeing a trial at the High Court in London.
Mr Johnson has made a written witness statement and answered questions from barristers.
He told in his witness statement of how he spoke to a "contact" in June 2014.
They had talked about high-profile cases involving celebrities.
"The contact said there was just one more major figure the police were looking at," said Mr Johnson.
"I guessed this to be Sir Cliff Richard because of previous rumours I had heard about him.
"The contact confirmed I had guessed the right name."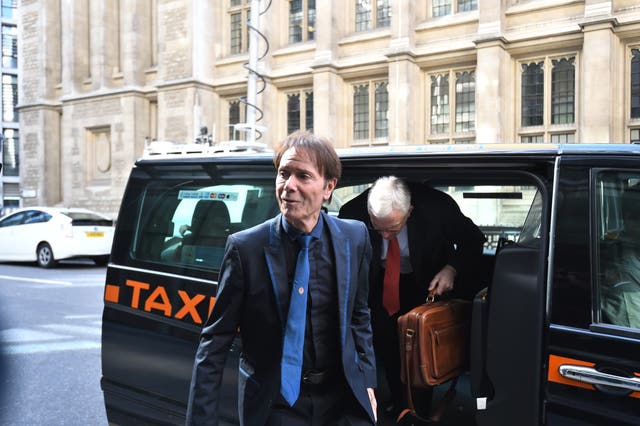 Mr Johnson said his contact had spoken of allegations being "closer to home".
He said his previous work had been in Sheffield and he took that to mean that South Yorkshire Police were involved.
"The contact did not correct me," said Mr Johnson.
"Because of the context of the other cases mentioned, and rumours I had heard about Sir Cliff's sexuality, I took from this the impression that it was an allegation of sexual abuse involving a boy and dating back some years.
"I also got the strong impression that the police were due to take further action."
Mr Johnson said he was "determined to protect my confidential source".
He added: "I did not put South Yorkshire Police under any pressure in order for them to provide me with the information that they did."
Lawyers have told Mr Justice Mann how in late 2013, a man made an allegation to the Metropolitan Police, saying he had been sexually assaulted by Sir Cliff during an event featuring evangelist Billy Graham at Sheffield United's Bramall Lane football stadium, when he was a child in 1985.
Met Police officers passed the allegation to South Yorkshire Police in July 2014.
Sir Cliff denied the allegation and in June 2016 prosecutors announced that he would face no charges.
A BBC spokesman said that the corporation had reported Sir Cliff's "full denial of the allegations at every stage".
– South Yorkshire Police agreed to pay Sir Cliff Richard £400,000 after settling a claim he brought against the force, the judge has heard.
The singer had initially also sued South Yorkshire Police after complaining about coverage of the raid. But Mr Justice Mann was told how in May 2017 that dispute had been settled.