Leaders of the Commonwealth will discuss whether the Prince of Wales should succeed his mother as head of the 53-nation body when they meet behind closed doors at Windsor Castle.
Prince Charles's hopes were given a massive boost on Thursday, when the Queen publicly endorsed his future leadership at the Commonwealth Heads of Government Meeting (Chogm) in London.
The unprecedented move was thought likely to end years of speculation about who will take over as head of the institution her father King George VI first led in the aftermath of the Second World War.
Officially opening the summit at a ceremony in the Buckingham Palace ballroom, the Queen said it was her "sincere wish" that the Commonwealth "will decide that one day the Prince of Wales should carry on the important work started by my father in 1949".
And the organisation's outgoing chair-in-office, Maltese prime minister Joseph Muscat, appeared to take Charles's future role for granted when he told delegates: "We are certain that, when he will be called upon to do so, he will provide solid and passionate leadership for our Commonwealth."
While they are widely expected to fulfil the hopes expressed by the Queen, there was no official confirmation that Charles will be offered the role on Friday.
Spokesmen could not even confirm that any decision would be announced at a press conference following the leaders' retreat at Windsor Castle.
Prime Minister Theresa May has already given her backing to Prince Charles, with her official spokesman saying: "The Government supports the Prince of Wales as the next head of the Commonwealth. He has been a proud supporter of the Commonwealth for more than four decades."
Canadian PM Justin Trudeau said on Thursday: "I very much agree with the wishes of Her Majesty that the Prince of Wales be the next head of the Commonwealth."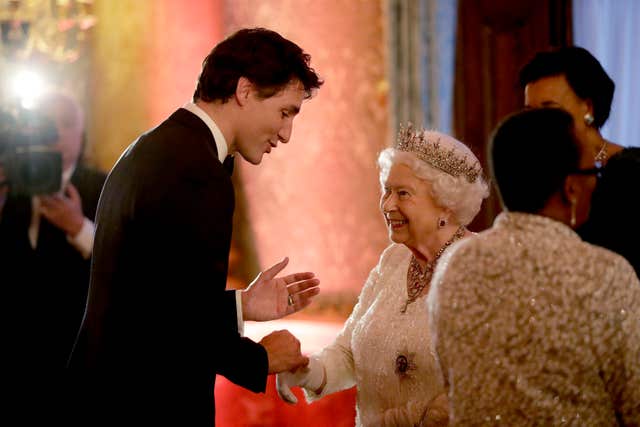 "But having the Prince of Wales would certainly not be an unhelpful act at this point in time."
It has been widely assumed that the Queen, who celebrates her 92nd birthday on Saturday, is probably presiding over her last Chogm in person as she has not taken a long-haul flight for a number of years and the venue for the biennial summit moves around the globe, with the UK only hosting it three times in the last 32 years.
The Queen has been head of the Commonwealth since coming to the throne in 1952, but the position is not automatically held by the British monarch.
Leaders were also debating topics ranging from a blue charter on ocean conservation to cyber security and trade.