Hundreds of people gathered to show their solidarity with the Windrush generation as it emerged those caught up in the scandal would be given compensated.
On Friday Theresa May confirmed the Government will make compensation payments to members of the Windrush generation who suffered as a result of official challenges to their migration status, however no details have yet been announced.
Shadow Home Secretary Dianne Abbott received a rapturous welcome as she addressed a rally at Windrush Square in Brixton, south London, on Friday evening as she demanded victims be compensated.
The square was renamed after the Empire Windrush ship, which carried settlers from Jamaica to England in 1948, to celebrate the contribution of the African Caribbean communities to the area.
Several hundred people gathered in the sunshine, some holding placards reading "Solidarity with the Windrush generation" and "Windrush generation: Here to stay".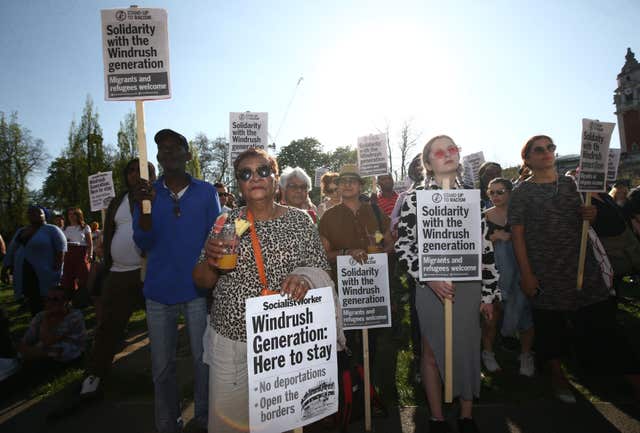 Ms Abbott said a whole generation had been "turned into criminals and treated with complete contempt" as she called for all those who have been deported to be allowed back.
"Now is the time to say, we as people of the Caribbean, their children and their grandchildren will not tolerate being treated in this way anymore," she said, drawing cheers from the crowd.
"We need to come together and demand compensation.
"We need to come together and defend a generation that did so much for this country and, overall, we need to come together and demand justice and we will not stop until we have this justice."
The Labour MP also demanded the release of figures of how many people have been deported and the number being held in detention.
She added: "Amber Rudd and Theresa May are apologising, but they shouldn't be apologising because you only apologise when you have made a mistake.
"They knew what they were doing. They knew the consequences."
Other speakers included the journalist Gary Younge, who was applauded when he told those present: "I don't want to live in a country which is hostile to immigrants."
"They didn't do anything wrong to the immigration system, the immigration system did something wrong to them."
Others told personal stories of how they or their parents arrived in the country decades ago.
One speaker, who gave his namely only as Trevor, said: "I have been here since '58. My child is 51 and I'm still trying to get a passport."