The Government is to make compensation payments to members of the Windrush generation who suffered as a result of official challenges to their migration status, Theresa May has announced.
Downing Street declined to give details of the compensation scheme, saying only they would be announced "shortly" by the Home Office.
It is thought likely that payments will go beyond the reimbursement of legal bills and include a recognition of the anxiety caused to long-standing Commonwealth residents of the UK whose right to be in the country was questioned.
The announcement came as details emerged of two Windrush women who say they were denied re-entry to the UK after travelling to the Caribbean.
Gretel Gocan, 81, told 5 News she had been stuck in Jamaica since 2010 unable to return to her south London home after taking a holiday to visit family.
And former NHS nurse Icilda Williams, who moved back to Jamaica in 1996 after 34 years in Bradford, said her annual visits to the UK to see her children had been halted since 2014 after she was denied a visa.
The Home Office said it would be looking into the cases as a matter of urgency.
Mrs May confirmed plans for compensation at a press conference at the conclusion of a Commonwealth Heads of Government Meeting (Chogm) in London which has been overshadowed by controversy over the treatment of Caribbean nationals who arrived in the UK between the late 1940s and early 1970s.
The Prime Minister said: "On Tuesday, I met with Caribbean leaders, where I gave an absolute commitment that the UK Government will do whatever it takes – including where appropriate payment of compensation – to resolve the anxieties and problems which some of the Windrush generation have suffered.
"These people are British, they are part of us, they helped to build Britain and we are all the stronger for their contributions."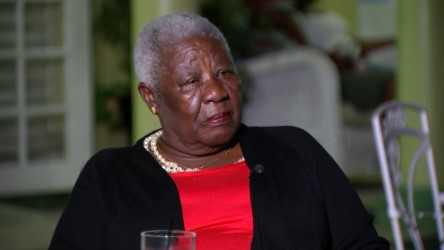 "She's the one that ordered the vans to go around telling immigrants to go home," said Mr Corbyn.
"She's the one that created that nasty atmosphere.
"She wanted to create this hostile atmosphere towards immigrants in this country. I think it's time that she apologised for that as well as for the events that have happened to the people of the Windrush generation."
Speaking to 5 News, Ms Gocan's daughter Pauline Blackwood said her mother had been stranded in Jamaica with no money and no pension.
The 81-year-old says she came to the UK in 1960 and never applied for a British passport, but had a stamp in her Jamaican passport granting her indefinite leave to remain.
That document was stolen in 2006 and when she went to Jamaica on a new passport in 2010 she found herself refused permission to return to the UK and told she needed a visa, she said.
"My mum has six children in the UK and she has grandchildren and some of them she hasn't seen or even held," said Ms Blackwood.
"Her family is here and it is for her to make that choice whether she chooses to stay in Jamaica or come back to the UK, but that is not an option for her, she is forced to stay in Jamaica.
"My main fear is we're going to lose our mum. She has no money, all her pension's been stopped and her medication too – she has diabetes – that's all been denied to her."
Her son Kenneth, who came to the UK as a nine-year-old in 1969, was told he did not have the right to reside in Britain in 2016 when he made an application for Jobseekers' Allowance.
Mrs Williams told 5 News: "It has upset me a great deal because my daughter-in-law died last February and I couldn't go and my son was so ill and I couldn't get to see him.
"I'm the only one here away from the family, because I came here when my husband was wanting to come home and I came with him and he died here. And just to go back and see the family and come back, I would love it."
Asked if she had a message for Home Secretary Amber Rudd, she said: "I would say to her she make a mistake. Just do it right and allow people to come in and see their family."
Some 286 people have so far contacted a Home Office helpline set up to offer support for members of the Windrush generation with concerns about their migration status.
Eight have so far been given permanent residence status.
A rally was being held in support of those affected and their families at Windrush Square, Brixton, south London, on Friday afternoon.
Grenada's Prime Minister Keith Mitchell called for "serious" compensation, saying: "The word compensation came out today – that was highly significant, extremely important.
"It's not just, 'I'm sorry.' People lost a lot, people suffered a lot of pain, and they must be given an opportunity to correct this – some serious compensation.
"If not the person, if they've gone, then the families who have suffered too."
Asked if Mrs May should have accepted the "hostile environment" immigration initiative was a mistake, Mr Mitchell said: "I think the fact she has addressed it is indicating that Britain and the policy they enunciated initially was not the right one.
"And therefore by making the statement she made today, I think she's heading in the right direction. And I'll give her credit for making the right turn."
A Home Office spokesperson said: "The Home Secretary has been clear, we don't want anyone who has contributed so much to our society to feel unwelcome.
"She has apologised unreservedly for any distress caused and we are urgently reviewing these cases.
"The Windrush helpline is open to individuals overseas, as well as in the UK, who are concerned about documenting their status."