The Duchess of Cambridge has been admitted to hospital in labour, Kensington Palace has announced.
Kate was taken to the private Lindo wing of St Mary's Hospital in Paddington, London, as she prepares to give birth to her third child.
Kensington Palace said: "Her Royal Highness The Duchess of Cambridge was admitted to St Mary's Hospital, Paddington, London, earlier this morning in the early stages of labour.
"The Duchess travelled by car from Kensington Palace to the Lindo Wing at St. Mary's Hospital with The Duke of Cambridge."
The duchess is being cared for by consultant obstetrician Guy Thorpe-Beeston, who is the surgeon-gynaecologist to the household, and consultant gynaecologist Alan Farthing, the Queen's surgeon-gynaecologist – part of the trusted team who delivered George and Charlotte.
Highly-trained midwives will also be on hand, while experts will be waiting in the wings in case of an emergency.
For her previous births, Kate had a 23-strong team of top medics working or on stand-by from Imperial College Healthcare NHS Trust – which runs St Mary's Hospital.
With the baby on its way, press pens will now open outside the hospital as journalists, photographers and camera crews wait for confirmation of the baby's arrival.
Royal watchers will be expecting a swift delivery.
With George, the duchess gave birth 10-and-a-half hours after being admitted to hospital, but Charlotte was born just two hours and 34 minutes after Kate arrived at the Lindo Wing.
The birth will be declared in both conventional and contemporary ways.
An announcement will be emailed to the press and a celebratory tweet posted on the Kensington Palace Twitter feed – @KensingtonRoyal.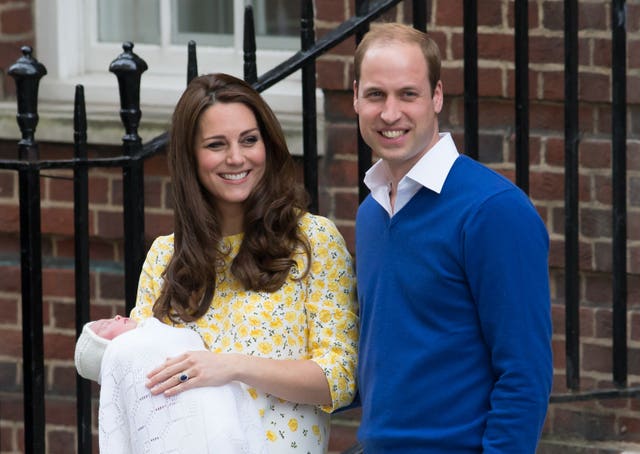 Just like with her first and second children, Kate is hoping for a natural birth and does not know whether she is having a boy or a girl.
Bookmakers will be waiting to see whether they have to pay out on the name, delivery date, hair colour and weight of the baby.
Predicted names include Alice, Alexandra, Elizabeth, Mary and Victoria for a girl and Arthur, Albert, Frederick, James and Philip for a boy.
George and Charlotte may visit the hospital to see their mother and baby sibling, just as George did when his younger sister was born three years ago.
While Kate is in labour, George and Charlotte are likely to be cared for by their full-time, live-in nanny, Maria Teresa Turrion Borrallo.
The duchess's pregnancy was announced by Kensington Palace on September 4 last year.
Kate again suffered from extreme pregnancy sickness hyperemesis gravidarum.
She went on maternity leave on March 22, but the duchess – and her large bump – attended an Easter Sunday church service in Windsor with the royals on April 1.
She has joked that William is "in denial" about having a third child.
Although the Queen has four children, the duke is the first future king to have a third for more than 120 years.
Unlike William, George V never expected to be king and only became heir to throne when his older brother, the Duke of Clarence and Avondale, died from flu in 1892.
If the baby is a boy, William and Kate will be following in the footsteps of the Queen and the Duke of Edinburgh, who had a son, a daughter and then another son.
But the Queen and Philip also went on to have a fourth child – Prince Edward.