The Duke and Duchess of Cambridge have welcomed a baby prince, following in the footsteps of the Queen and the Duke of Edinburgh.
Emulating the birth pattern of the Queen and Philip's first three children, William and Kate have had a son, a daughter and now another son.
The Queen and Philip had Prince Charles, then Princess Anne, followed by, after a gap of 10 years, Prince Andrew, with Prince Edward born four years later.
Yet William and Kate's third child, a new Prince of Cambridge, arrived after a much closer age gap.
There are only three years between Princess Charlotte and her new baby brother.
Before Charlotte was born in 2015, the Windsors' direct line to the throne had been mostly male-dominated for many years.
The Queen has three sons and one daughter and the Prince of Wales has two sons, William and Prince Harry.
The monarch was one of two sisters but George VI was one of five brothers and a sister.
The arrival of a prince was a surprise for the Duke and Duchess, who chose not to find out the sex of their baby in advance.
Like George, the baby is a Prince of Cambridge.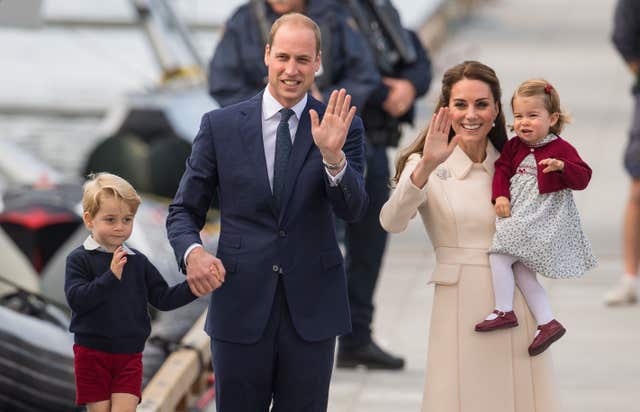 The previous Prince of Cambridge, who was also a George, was born in 1819 and was a grandson of George III.
But if the Queen had not stepped in, the new baby would have been Lord (forename) Mountbatten-Windsor, rather than a prince, and would not have been His Royal Highness.
Under past rules, only William and Kate's first-born son was entitled to become a prince after George V limited titles within the royal family in 1917.
The Queen issued a Letters Patent under the Great Seal of the Realm in December 2012 when Kate was around three months pregnant with George, declaring "all the children of the eldest son of the Prince of Wales should have and enjoy the style, title and attribute of royal highness with the titular dignity of Prince or Princess prefixed to their Christian names or with such other titles of honour".
This young prince is also no longer allowed to jump ahead of older sister Charlotte in the line of succession.
Previously, under the ancient rules of male primogeniture, he could have taken precedence over Charlotte, and leapfrogged into fourth in line.
But a radical shake-up of the royal succession rules removed discriminatory male bias and came into force in March 2015, affecting babies born after October 28 2011.
When the Queen's third child, Prince Andrew, now the Duke of York, was born in 1960, he jumped ahead of his older sister, Princess Anne, and remains higher up the line of succession than her to this day as the new law is not retrospective.