A judge hearing the case of Alfie Evans has asked doctors if "other options" are possible to allow his family to take him home after life support was withdrawn.
But Mr Justice Hayden also appeared to rule out his family's wishes to take the 23-month-old to Italy for treatment.
Alfie has been at the centre of a life-or-death treatment battle, with his parents, Tom Evans and Kate James, trying to stop his doctors at Alder Hey Children's Hospital in Liverpool from withdrawing life support in a sometimes acrimonious six-month dispute which has seen a series of court battles.
A "last-ditch appeal" by the Italian ambassador and the Pope, to grant Alfie citizenship of Italy to take him for treatment at a hospital in Rome, failed on Monday.
A late night court hearing heard by telephone by Mr Justice Hayden and lawyers for both sides confirmed his earlier decision permitting life-support, helping Alfie to breathe, to be withdrawn.
"I'm not suggesting this, I don't want it to be taken as an indication from me.
"One of the things Tom Evans said, if it can't be Italy or Munich, which it cannot be, was whether they could take Alfie home."
At that point the court adjourned for an Alder Hey consultant in the courtroom to consider the matter.
Earlier on Tuesday Mr Evans claimed medics had been "gobsmacked" as his son continued to breathe for himself after medical intervention was withdrawn at around 9.17pm on Monday.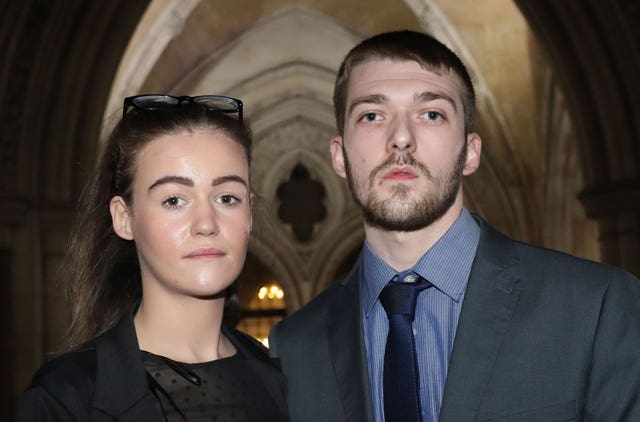 Mr Diamond said: "This really is an appeal, in our submission for common humanity and common sense…"
The judge interjected: "I don't think it's helpful to use emotive terms. As a barrister confine yourself to the law."
Mr Diamond gave a witness statement from Mr Evans, taken on Tuesday, to the court suggesting his son's condition is "significantly better" than had been previously believed.
Mr Diamond said the child had been breathing unaided for 19 hours.
He continued: "We do have a human being…"
Again the judge cut across him: "I don't need to be reminded we have a human being. You do not have the moral high ground in this court. It is treacherous terrain."
Alder Hey doctors and independent medical experts say there is no cure and no hope for Alfie.
Medics say he has a degenerative neurological condition destroying his brain, and it is in his best interests to withdraw life support, but his parents want to take him abroad for treatment.
All legal avenues appeared to have been exhausted for the family until a further hearing by Mr Justice Hayden was announced earlier on Tuesday at the Family Division of the High Court in Manchester.
The hearing continues.