One in five charities and nearly half of businesses in the UK have been hit by a cyber security breach or attack in the last year, an official survey shows.
The Government report detailed how organisations of all sizes are at risk of being targeted by fraudsters and hackers.
For the first time the 2018 edition of the Cyber Security Breaches Survey examined the impact on the charitable sector.
It found that 19% of charities and 43% of businesses reported experiencing cyber security breaches or attacks in the last 12 months.
The most common breaches or attacks involved fraudulent emails, attempts by scammers to impersonate the organisation online and viruses and malware.
As a result of incidents files were temporarily or permanently lost, software or systems were corrupted, firms or charities had their website slowed or taken down and money, assets or intellectual property was stolen.
Typically, organisations incur no specific financial cost from cyber security breaches, according to the report.
But it said that where breaches do result in a "material outcome", the costs can be significant.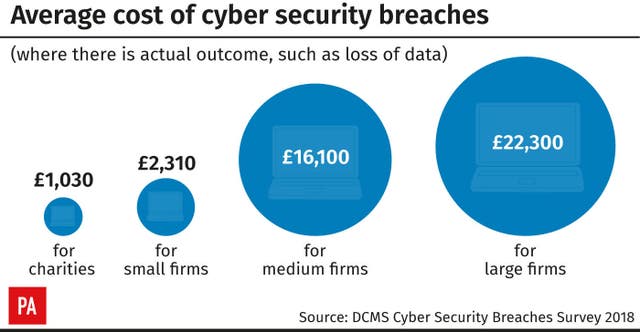 It concluded that businesses and charities need to consider their "organisational cultures", saying some organisations continue to see themselves as "offline" or too small to be at risk.
Charities are typically behind businesses when it comes to seeking information, advice or guidance, training staff and having written policies on cyber security, the paper said.
The findings follow a warning from intelligence officials that charities holding vast quantities of personal data and payment information are at risk of potentially devastating online attacks.
In one case flagged up in that report, published last month, a charity lost £13,000 after its chief executive's email was hacked.
Ciaran Martin, chief executive of the National Cyber Security Centre, said: "Cyber attacks can inflict serious commercial damage and reputational harm, but most campaigns are not highly sophisticated.
"Companies can significantly reduce their chances of falling victim by following simple cyber security steps to remove basic weaknesses."
Minister for Digital and the Creative Industries Margot James said: "We are strengthening the UK's data protection laws to make them fit for the digital age but these new figures show many organisations need to act now to make sure the personal data they hold is safe and secure."
The Government is investing £1.9 billion to protect the nation from cyber threats, she added.