Plastic pollution and making urban spaces greener are among the environmental challenges being addressed by gardens at this year's Chelsea Flower Show.
Displays at the Royal Horticultural Society's world-famous event, which takes place next month, are also examining issues such as dealing with more extreme weather and tackling air pollution in cities.
The Pearlfisher Garden, designed by John Warland, aims to spur action to create sustainable life-cycles for packaging and products to help protect the oceans, and will go on display amid growing concerns over the problem of plastic pollution.
It will feature aquatic tanks, hosting a Jason deCaires Taylor coral sculpture, ocean plants, and live fish.
The walling of the garden is made up of 500 plastic bottles, to represent how many end up in the world's oceans every few seconds.
Mr Warland, who is based in Richmond, south-west London, said: "It's obviously quite an unusual garden.
"We are trying to replicate the beauty of the underwater world in the heart of Chelsea. The brief is to bring the world's oceans, the world's largest gardens, to SW1 for five days."
On the choice of plants, many of which will be cacti, succulents and exotics, he said: "We can take the weird and wonderful from all around the world so it appears as if it's an almost horticultural coral, to promote the world's oceans and promote the natural world in general."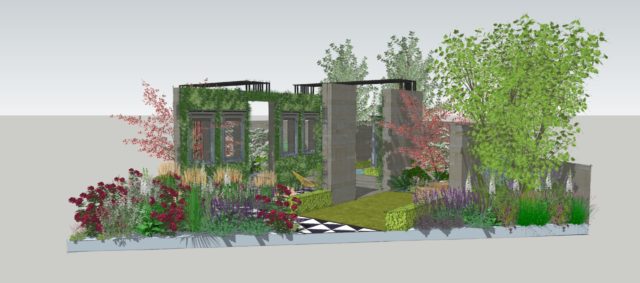 The garden will be rehomed after the show to provide a green space in Westminster.
Hertfordshire-based Ms Gould said: "It's about creating a green space within the shopping district to make the area appealing to residents and visitors, because the city is bigger now and we are all crammed in shoulder to shoulder."
The plants are pollution-tolerant, and include evergreens to make a green space all year round, while green walls and water features absorb and muffle noise, to help people get away from traffic and pollution.
The LG Eco-City Garden, designed by Hay Hwang, also focuses on plants to tackle air pollution, with silver birch, maples, beech, pine and laurel all having better capacity to collect pollutant particles than other trees.
A moss planting bed, which will be able to absorb 250 grams of particles each day, offering the same environmental benefit of 275 trees, will also feature in the garden.
And the Urban Flow garden, supported by Thames Water and designed by Tony Woods, aims to create a garden which can cope with the unpredictable climate extremes of flash-flooding and heavy rainfall, and drier conditions.
Plants have been selected either to cope with excess moisture or to tolerate drier periods, and remain hardy in the dry shade often found in the shadow of buildings, while living walls will provide a "larder" of edible flowers, herbs, salad and soft fruit.