A London Marathon runner whose leg suddenly broke just metres from the finish line has vowed to complete the race next year.
Angus Cameron, 45, was on target for a time of under three hours as he approached the final straight when he "felt an almighty pop".
An x-ray revealed a complete fracture of his thigh bone and he was forced to undergo surgery, with an expected recovery time of up to six months.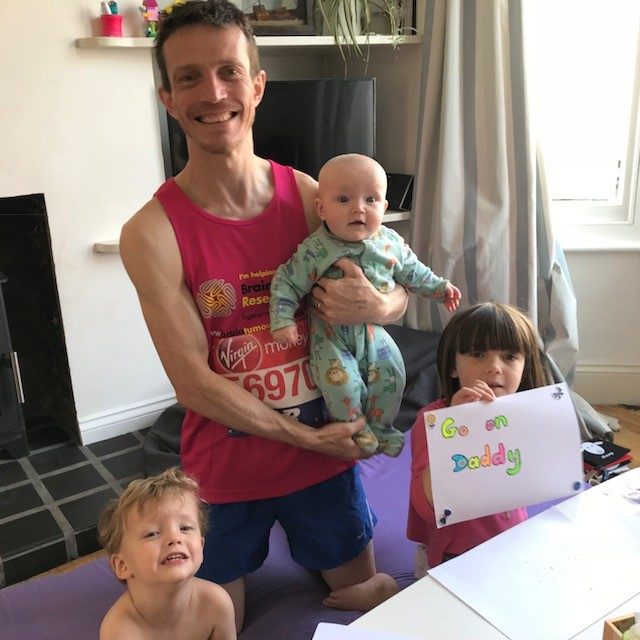 He said: "As I was rounding the bend before The Mall, I felt an almighty pop. At that moment, I assumed I'd pulled something and I could no longer run at full pace to hit my target.
"I decided just to get across the finish line so I carried on hobbling but then my leg completely gave way and I fell to the floor.
"Looking down at my obviously broken leg it was clear I was not going to be able to crawl to the line."
The father-of-three, who had fractured his femur bone, was wheeled over the finish line by medics in "fairly extreme" pain but did not officially complete the race.
He said: "I'm determined to run again in 2019 – who knows what time I will be able to achieve after this but I'll certainly be training again when I've recovered."
He was also inspired by university friend Nick Greenfield, 45, who was treated for a brain tumour last year.
Mr Cameron, a cancer researcher at Queen Mary University, London, said: "I'm disappointed that my sub-three-hour goal was shattered just metres from the finish line, but a broken leg is nothing compared with what my friends have been through.
"And it doesn't stop my fundraising for Brain Tumour Research. My target is £5,000 and I hope I can still beat that."
Michael Thelwall, head of community fundraising for Brain Tumour Research, said: "We are extremely grateful to Angus for his efforts in the London Marathon.
"His commitment to raising funds for research into brain tumours and his determination to run again in 2019 is incredible.
"We offer Angus our commiserations for how the marathon ended and wish him a speedy recovery."
– To donate to Mr Cameron's fundraising page visit www.justgiving.com/fundraising/angusjmcameron