A seven-year-old girl only had "a few minutes" left of her turn on a bouncy castle when it blew away with her inside it and killed her, a fairground worker has told a court.
Summer Grant died in hospital after she was rescued from the inflatable at an Easter Fair in Harlow, Essex, Chelmsford Crown Court heard.
Fairground worker William Thurston, 29, and his wife Shelby Thurston, 26, deny manslaughter by gross negligence and a health and safety offence following the incident on March 26 2016.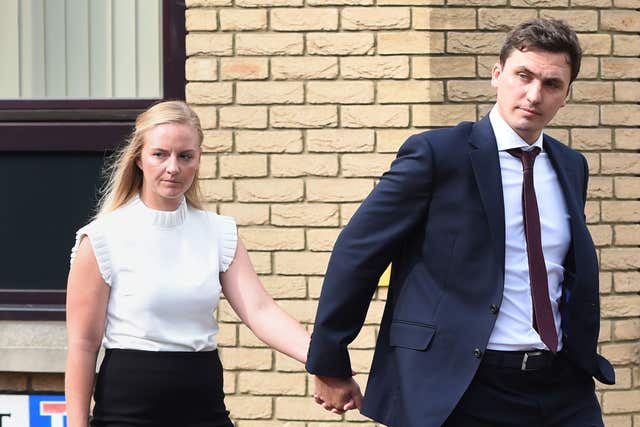 She said there was "no real concern" for a separate "playground" containing the bouncy castle dome where Summer had been playing, and she allowed the girl to continue.
Summer's sister Lily, who was five at the time, was also there but was not on the bouncy castle.
"They still had a few minutes of time," Thurston said. "I said, 'I will let them finish their go then we will take it down'."
Asked why she decided to let them finish, she said: "At the time there was no concern for the playground.
"We hadn't reached or got very close to our critical point for wind when wind affects the playground.
"I thought at the time I was quite within my timescale of letting them finish."
She said she was near the bouncy castle when it took off, adding: "I screamed and I tried to grab hold of it."
She became tearful as she described seeing her husband carry Summer from the inflatable.
"I remember just looking at her," she said. "She wasn't speaking but she was awake.
"She was responsive, her eyes were blinking. It's just the horriblest thing."
She said her husband put Summer in the recovery position, and she later returned to the fairground where she tried to comfort Summer's grandmother and her little sister Lily.
"Lily said something that completely broke my heart," said Thurston. "She said, 'I think Summer's poorly'."
She said the bouncy castle had been anchored to the ground with 17 stakes and she and her husband had been assessing conditions, including by looking at inflatables to see if they "showed signs of the wind".
Prosecutors say the Thurstons, of Whitecross Road in Wilburton, near Ely, Cambridgeshire, failed to ensure the bouncy castle was "adequately anchored" and failed to monitor weather conditions to ensure it was safe to use.
Summer, from Norwich, had been at the fair with her father Lee Grant and other family members.
The trial continues.