A man has died after being washed into a harbour as strong winds and heavy rain battered parts of Britain, emergency services have said.
Fallen trees blocked roads in Kent, East Anglia and parts of London, and rising floodwater saw some have to be plucked from their vehicles by emergency services.
The Met Office issued a yellow warning for rain and wind for most of the South East, and said so far more than a month's worth of rain had fallen within 24 hours in some places.
In Kent Emergency services were called to reports that three people were in the water by Ramsgate pier, the Maritime and Coastguard Agency (MCA) said.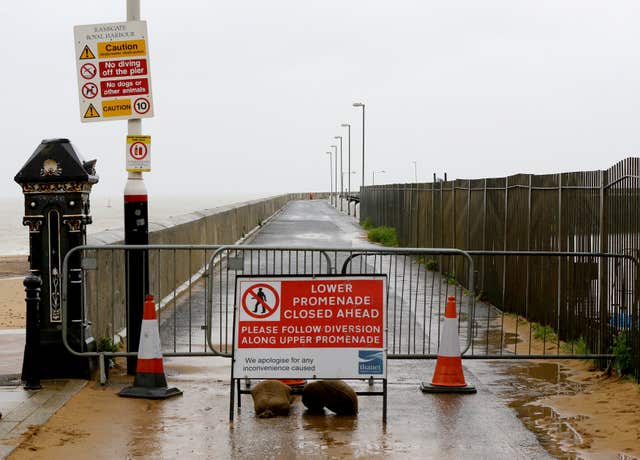 A spokeswoman for Kent Police said the force was called to the scene in the Royal Harbour at about 11.30am to assist the coastguard and lifeboat teams.
She said: "Three men were recovered from the water, but one was later pronounced dead at the scene. The other two were taken to hospital for treatment.
"The death is not being treated as suspicious. Inquiries are ongoing to identify next of kin."
Ramsgate Lifeboat Station said in a post on Facebook that they were called at 11.25am to reports three people had been "washed off the harbour wall".
With two people rescued from the water, the statement said the third was found clinging to the harbour wall with injuries.
Weather conditions in Ramsgate were described as "atrocious" by the RNLI, with waves reportedly breaking over the harbour wall.
It is understood that the combination of a spring tide and the strong winds caused the large volume of water to batter the coast.
Elsewhere a family of two adults and a baby had to be rescued by Kent Fire and Rescue Service after their car became stuck in flood water on Stickfast Lane, Sutton Valence.
Crews also helped two drivers from separate cars which had broken down in knee-high flood water in Minnis Lane, Dover – moving the vehicles to safety they also removed a fallen tree which was blocking the road.
Met Office Meteorologist Alex Burkill said by 5pm on Monday the largest recorded amount of rainfall in a 24-hour period was in Lenham, Kent with a current total of 57.6mm (2.2 inches), while Canterbury in Kent saw 45.9mm (1.8 inches) and 41.3 mm (1.6 inches) fell in Faversham.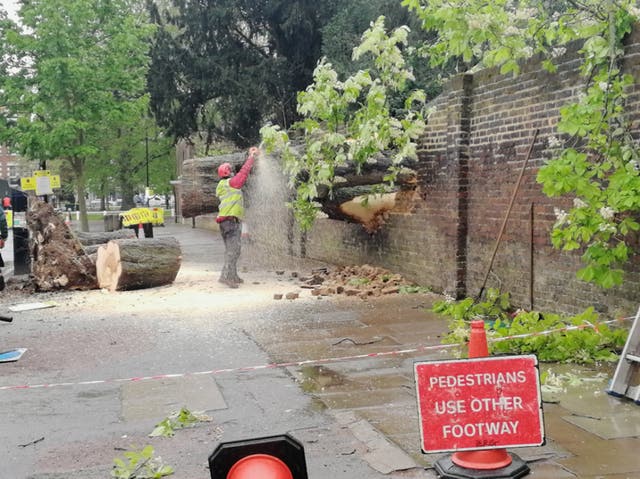 "And it has not stopped raining yet, we have still got several hours left before it does."
Mr Burkill said the rain would clear Kent by 10pm with downpours expected to affect East Anglia until about 2am.
As rainfall blighted the South, 54mph gusts of wind were also recorded in Langdon Bay in Kent, with  48mph also seen in Donna Nook in Lincolnshire, Mr Burkill said.
"The rain has affected a good chunk of the South East, East Anglia, London has been on the edge of it, and down to Hampshire," he said.
"The rest of the UK, the bulk of the UK, has had a pretty decent day."
The soggy start to the week also came with chilly temperatures, with the mercury struggling to rise above 5C in Kent, Mr Burkill added.