Unionist MEPs have been accused of "bad manners" for not meeting the EU's Brexit negotiator during a visit to Northern Ireland.
Michel Barnier was greeted in Londonderry's historic Guildhall by Sinn Fein MEP Martina Anderson, who suggested that the DUP's Diane Dodds and Ulster Unionist Jim Nicholson were failing to represent the unionist people by "snubbing" Mr Barnier.
Ms Anderson also said the DUP would "not be too put out" if there was a harder border on the island of Ireland, something they may regard as a "job done", she suggested.
"I think it's unfortunate that they haven't turned up. The parliament is not open today.
"The European Parliament is closed, so there's no reason why both of the MEPs from the unionist population shouldn't be here.
"All three of us should be maximising the opportunity when Michel Barnier is in our constituency.
"I think it's political bad manners that the MEPs – and I have to say the two council leads from the DUP and UUP – were both invited here this morning, and neither of them have turned up.
"I don't think really when you have a chief negotiator coming from the EU that it's a good signal to send out because I don't think it's representative of the people, the protestant, unionist, loyalist people, who would want their own representatives taking the opportunity to express their views," she said.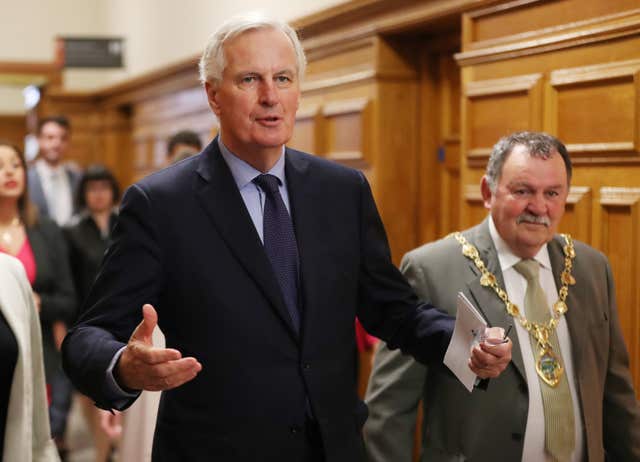 "And we're hearing that the withdrawal agreement could collapse if there is not an agreement about Ireland, so he needs to come to the areas that are going to be most affected by that.
"And whilst the DUP and the UUP are telling us that they don't want a hard border in Ireland, there is another trend of thought that believes that particularly the DUP, who didn't vote for the Good Friday Agreement, didn't support it, will not be too put out if it is undermined in all of its parts.
"They will not be too put out if there is a harder border here in Ireland and it reinforces partition.
"And for some of them, particularly their MPs, they may view that as a job done."
Last week, Mrs Dodds and Mr Nicholson issued a joint statement welcoming Mr Barnier's visit but expressed disappointment that it was announced by a Sinn Fein MP.
Mrs Dodds said she had already committed to meetings in London and could not meet him.
She told the BBC's Sunday Politics: "Michel Barnier is the negotiator for the EU 27. I am delighted that he is coming to Northern Ireland.
"I was told by the EU Commission that this was an opportunity to meet stakeholders and not politicians.
"I certainly meet Michel Barnier on a very regular basis and debate with him in the Strasbourg chamber.
She also said the DUP met him in Brussels "a few weeks ago" and insisted it was important to have "input" at the Brexit discussions in London.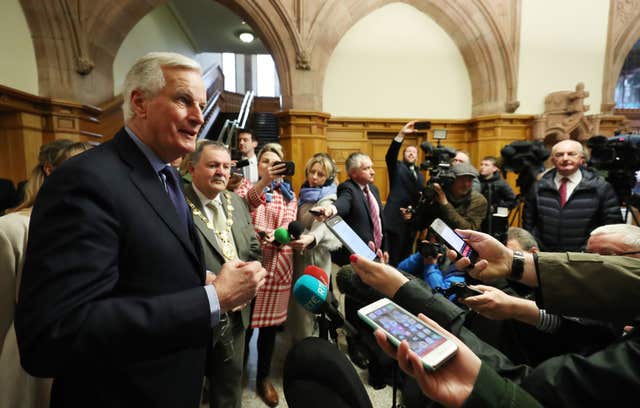 He said the European Commission will propose a new framework this week for future financial plans.
"And I can tell you that we are ready to maintain the peace programme," he said.
Mr Barnier said he was delighted to be in the "historic and vibrant" city of Derry, and said he had already enjoyed a walk on the Peace Bridge.
The EU chief negotiator was in the city to meet with business leaders.