A "spurned" former City worker who posted pictures of a female intern on pornographic websites has been jailed for 16 weeks.
Davide Buccheri, 25, was also ordered to pay £5,000 in compensation to his victim for the seven-month campaign against her after she rejected his romantic advances.
Buccheri, of Bologna, Italy, took photos from her social media and uploaded them alongside pornographic pictures of other women, before telling company bosses at the M&G investment firm where they both worked in an attempt to discredit her.
The London School of Economics graduate was convicted of harassment at Westminster Magistrates' Court last Friday.
Passing sentence at the court on Tuesday, District Judge Richard Blake said: "I was sure that you, having been spurned by her in a very professional and gentle and understanding way, set about on a course of revenge against her.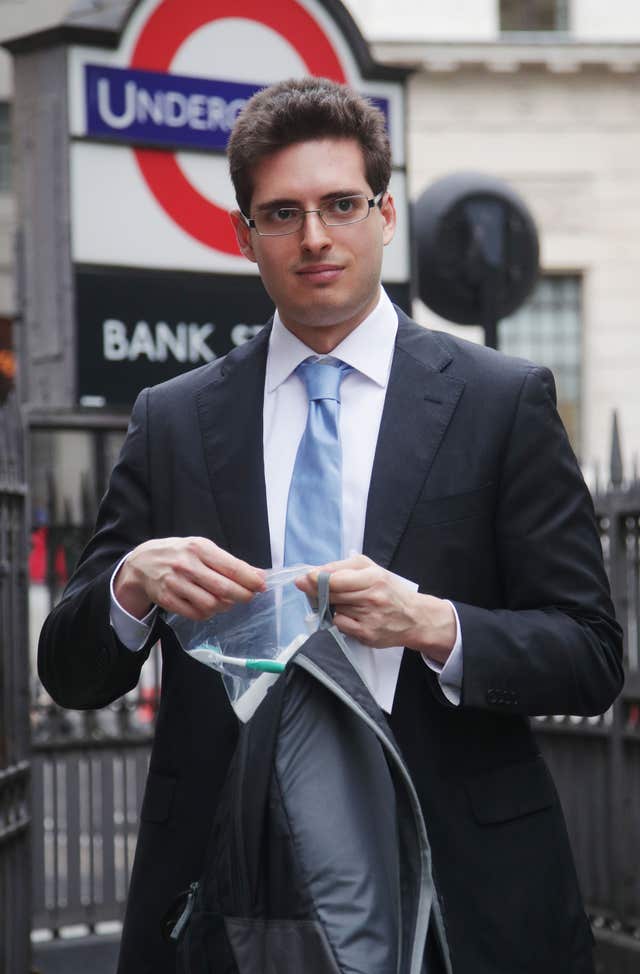 "This is a 21st century sort of revenge in that you invoked the powers of the internet and social media.
"She will live forevermore with the fear that someone will Google her name and some ghastly website will come up and she will be reminded of the offences that you invoked."
The Italian national's campaign was waged between September 2016 and May 2017, when the victim was a university student, the court previously heard.
The former City analyst was on a salary of £44,000 and even received a bonus of £60,000 in 2016, the court heard.
But, since leaving the company, only child Buccheri has returned to Bologna to live with his parents, cannot find work, has lost contact with friends, and has been left with just £60 in his bank account.
"You are a young man and you're clearly highly intelligent. The consequence of this is to destroy your career as it stood at the time of these events."
The court heard from a probation report how Buccheri was "besotted" with the victim and "framed in his mind a romantic attachment when he met her".
But this was rejected at an early stage, prompting Buccheri to attempt to pursue it further, which saw his repeated advances "met with rejection throughout".
Buccheri previously admitted being "romantically interested" but denied uploading the photos, saying he was only looking at them because he was concerned about the company's reputation.
Defending, Emily Baxter said: "It is clear he developed a complete infatuation with her.
"He did not have the social skills to know what to do with that or the thinking skills to assess the consequences of his actions, or the skills to deal with the rejection that he felt when she politely turned him down."
She added that the defendant still harbours hopes of working in finance, but would struggle to find work in the sector as M&G is so "omnipresent".