A lion who mauled the British owner of a wildlife park in South Africa after he entered his enclosure has been shot dead.
Shamba was killed by a member of staff at the Marakele Animal Sanctuary in Thabazimbi as he attacked the centre's founder Mike Hodge.
The lion died from a gunshot wound fired during the bid to rescue Mr Hodge, the centre said in a statement.
Shocking footage of the incident, which took place on Monday, shows Mr Hodge being pounced on by the predator before he is dragged off towards some bushes.
Horrified onlookers can be heard screaming as Shamba paws at his victim.
The centre said that it was another member of staff's job to distract Shamba and keep him away from the gate, but that unusually the lion returned to the area on this occasion.
"Shamba was unfortunately fatally injured in the ensuing attempt to save Mike during the attack," the centre said.
Mr Hodge was rushed to a local hospital before being airlifted to Johannesburg hospital but escaped with only a broken jaw and multiple lacerations.
The Hodge family described the situation as "a double tragedy" because Shamba was bred at their sanctuary and hand raised by them.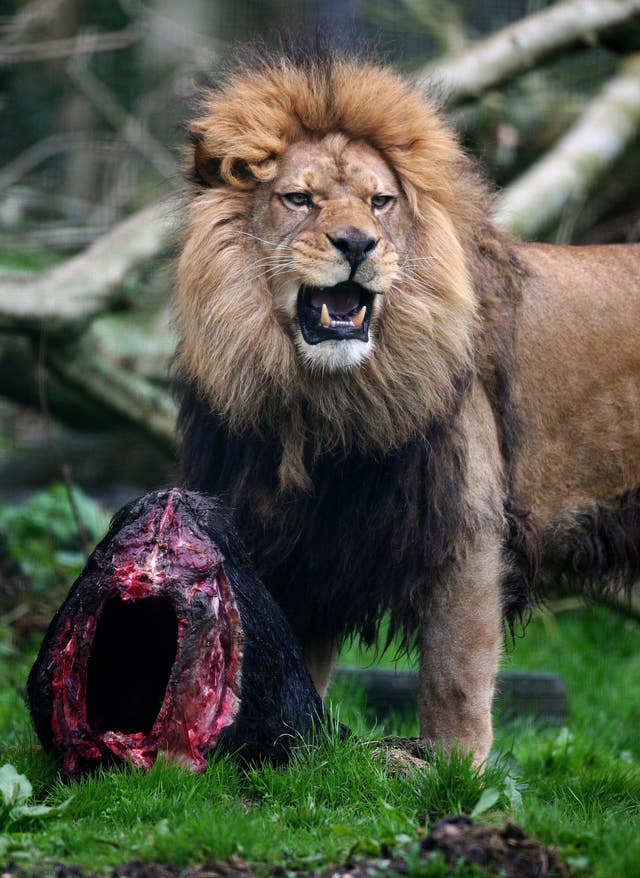 Mr Hodge's wife Chrissy said they were "devastated" by the loss of Shamba.
She said that during his recovery, her husband planned to write a book about his life working with animals.
Mike and Chrissy Hodge moved to South Africa from the UK 30 years ago and opened their lion project in 2003.
They eventually opened the Marakele Animal Sanctuary in December 2010.
The sanctuary's website states that visitors can be driven to meet the lions in a purpose built "lion mobile".
It is promised that "Shamba will jump up and look you in the eyes, he also sits on top of the truck whilst we take the drive through the camp".
The sanctuary is home to number of big cats including tigers, as well as birds, monkeys and a whole collection of small animals, according to their website.