Jubilant Liverpool fans celebrated reaching the Champions League final in a good-natured atmosphere in Rome.
Around two dozen supporters without tickets sang loudly in bars in the centre of the Italian capital, while those in the Stadio Olimpico showed their appreciation for the players who made it possible.
After the final whistle, the team posed on the pitch with a banner reading "Sean Cox – You'll Never Walk Alone", referring to the Liverpool fan who was attacked outside Anfield last week.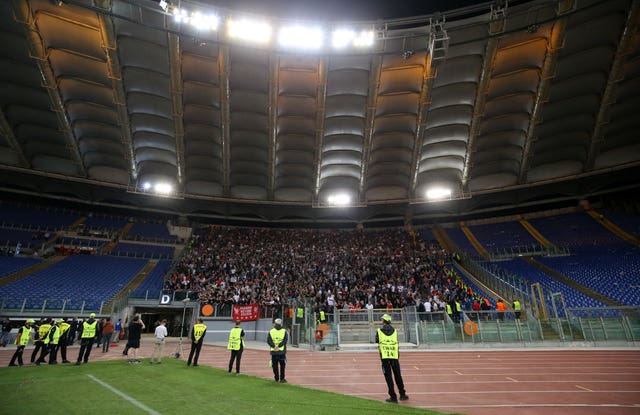 Five thousand supporters, who arrived in buses under heavy police escort, faced waiting more than an hour to leave the stadium as Italian authorities kept both sets of fans apart.
Liverpool fans wearing team colours, against club advice, mixed with Roma fans in packed bars in the Campo de' Fiori area.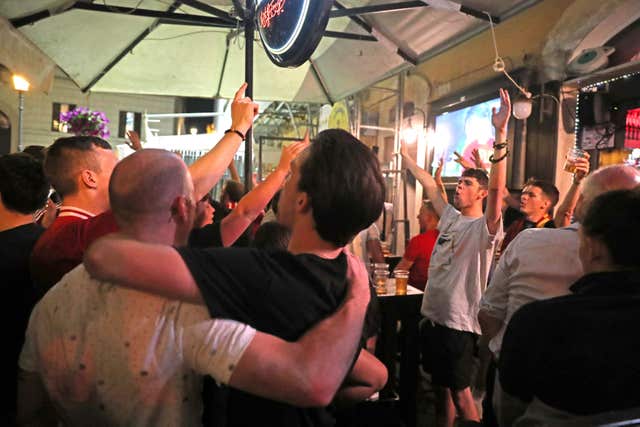 Trishan Patel, from Luton, said: "What a night. Told you we do it the hard way always."
Mr Patel said fans were allowed out of the stadium shortly after midnight local time, around an hour and a half after the final whistle.
But they were not made to watch the defeat again, as had been suggested by the club earlier.
He said: "They didn't put it on the screens. Would have been ideal to be honest."
About the final, he added: "I think we are simply going to outscore Madrid because we are definitely conceding."
Jurgen Klopp's team will face Real Madrid in the final.
Mr Cox, a 53-year-old father of three suffered serious head injuries after being assaulted outside Anfield stadium on Tuesday.
Two men in their 20s from Rome have been charged with violent disorder over the incident.