A local resident so fed up with potholes near his home has come up with a unique way to highlight the problem – using dolls' heads.
Neville Daytona, 56, placed the plastic toys, which he bought online and from charity shops, in potholes on Mill Lane, Swindon.
He said the pothole in question had been barricaded off for several weeks and following his campaign it was due to be filled in.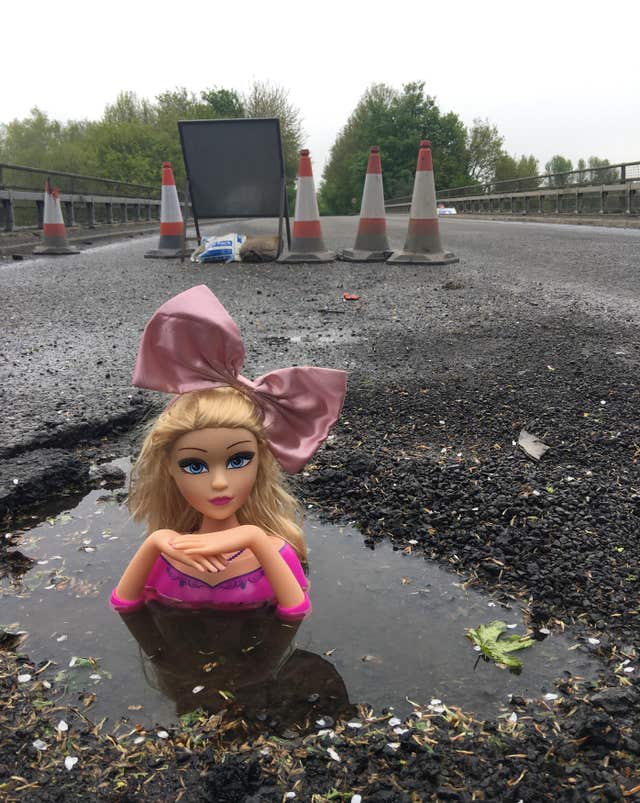 He said: "I can't believe it, it was just a little joke I was having with the people around here.
"The council are going to fill them in now and I think they have been backed into a corner here.
"It was there for months and it even had barriers and bollards around it. They were aware of it and I thought it would be funny to make it look like someone had fallen in it.
"If it takes a life of its own, brilliant. It has highlighted a problem and they are filling the hole in, fantastic.
"It's funny she is sitting up there. If she had blown sideways no-one would have given her a second glance."
Mr Daytona, a father-of-three from Wroughton, said potholes were something that affected all road users.
"If you going to drive a car you are going to struggle with potholes," he said.
"I ride a motorcycle and if you're in a car and you are too late to swerve out of the way you have just got to wince.
"If you're on a bike your natural instinct is to swerve and avoid it but what is behind you? It is dangerous."
A spokesman for Swindon Borough Council said: "Our action men and women have repaired the pothole several times but it keeps reappearing due to a problem with the motorway bridge.
"Highways England have agreed to fix the underlying issue."