Henry Vincent, the burglar fatally stabbed by an elderly homeowner, has been laid to rest amid a heavy police presence and flashes of violence.
Dozens of officers descended on St Mary's Church in St Mary Cray, south east London, where a service for the 37-year-old was to be held.
It was followed by a long convoy of vehicles, each with its own floral tribute on top, including a caravan and a boxing ring.
One mourner was seen sticking up two fingers at passers-by from the window of a funeral car as tensions repeatedly threatened to boil over.
Vincent died from a stab wound inflicted by Richard Osborn-Brooks, 78, whose home in Hither Green, south east London, he was burgling on April 4.
Spotting photographers ahead, mourners began yelling abuse and throwing missiles before several men broke away and gave chase.
One photographer was punched in the ensuing melee.
The Metropolitan Police confirmed a man believed to be in his teens was arrested on suspicion of assault at around 1.15pm.
He was released under investigation and told to report to a police station at a later date.
Officers had earlier warned the public and press to avoid the area.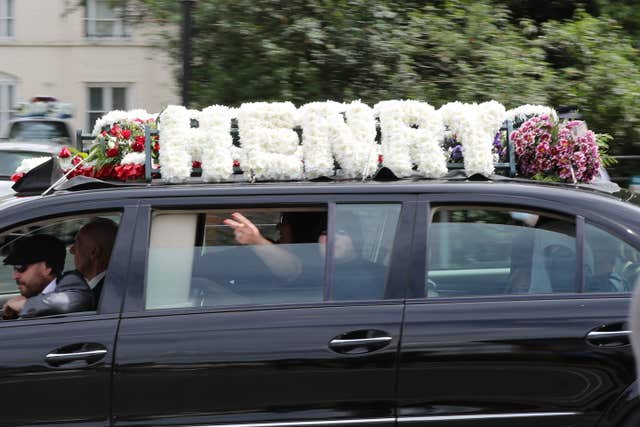 He said he had been returning from a job interview and was struck on the leg by the egg.
With yolk still visible on his leg, the member of the public said he would be making a complaint to the police.
"I'm lucky I'm on the way back from a job interview, not to it," he said.
He added: "I'm not having that."
Flowers were tied with red ribbons to lampposts around the perimeter of the churchyard, reminiscent of tributes left by Vincent's loved ones near the scene of his final crime in Hither Green.
Concern has been brewing that the intruder's final send-off could descend into an ugly confrontation between the bereaved and supporters of Mr Osborn-Brooks.
A row had developed in the wake of the killing over a shrine set up in Vincent's memory opposite the house, which was repeatedly desecrated.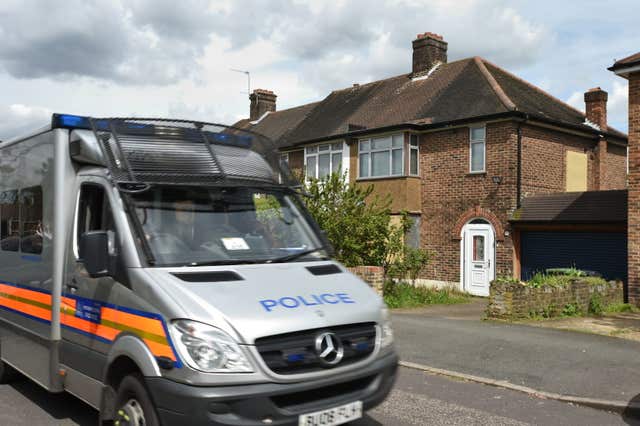 Another man, who would not say if he was local to the area, arrived with a portrait he had drawn of Vincent, and claimed police had told him he was on a "hit list" after removing flowers from the scene in the aftermath of the killing.
Holding the drawing aloft, Iain Gordon said: "This is a man that could've been a professional boxer. He could've had a good living from being a professional boxer. But he was taken on the road to crime."
Mr Gordon said the outrage which followed the circumstances around Vincent's death had shown a defiance in the community.
He said: "It's good that there's enough humanity within the general population that they're willing to stand up and say, 'We've had enough of this crime. We're not going to tolerate it, people climbing into other people's houses'."
Police circled the area throughout the morning, and a van with a number of officers inside remained parked up in the residential area into the afternoon.
Mr Osborn-Brooks was initially arrested on suspicion of murder but was later released without charge.
The pensioner's arrest provoked a public outcry, and an online fundraising campaign in support of the pensioner subsequently raised thousands of pounds.