A lottery-winning couple decided to Moet their lawn to celebrate, trimming a giant champagne bottle into the grass.
Sue Richards, 51, and 58-year-old Barry Maddox moved into their dream home in Billericay, Essex, after Ms Richards won £3 million on a National Lottery scratch card in 2016.
The couple, who have been together for 12 years, decided on the lawn art for their four-bedroom detached home as green-fingered Mr Maddox is keen on gardening and friends set him the challenge.
Mr Maddox's previous lawn efforts include Wimbledon stripes and a chequerboard design.
Ms Richards said a man they nicknamed Mr Lawn helped them with the champagne designs, and it took Mr Maddox and Mr Lawn three days to mow the masterpiece using three varieties of lawnmower and scissors of varying sizes.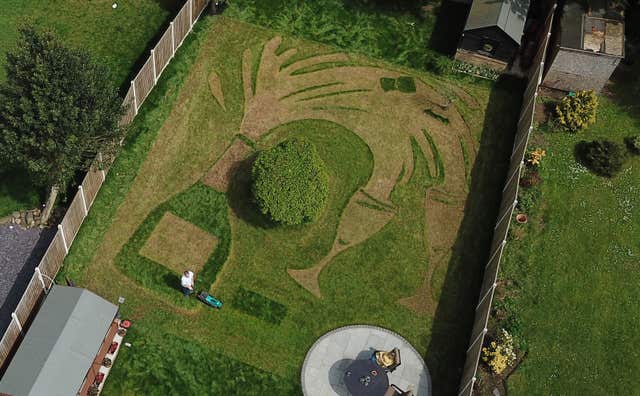 "It's bigger than what I expected but it's amazing," said Ms Richards. "It's come out really nice.
"Neighbours can see it as we're in a converted bungalow and there are two-storey houses next door.
"I wouldn't be surprised if the neighbours beyond that have seen it."
She said she mentioned it to neighbours before work started and they were "intrigued", but she had yet to ask them what they thought of the finished lawn art.
Ms Richards bought her winning scratch card from a local supermarket on the way home from a night shift as a care worker, and said she still works as a carer.
The couple used some of the winnings to swap their terraced housing association property for a £750,000 home with a garden covering a third of an acre.
Ms Richards also went to an Audi garage and splashed out on four new cars, bought a motorhome "which is my pride and joy" and has enjoyed exotic holidays, including to Australia.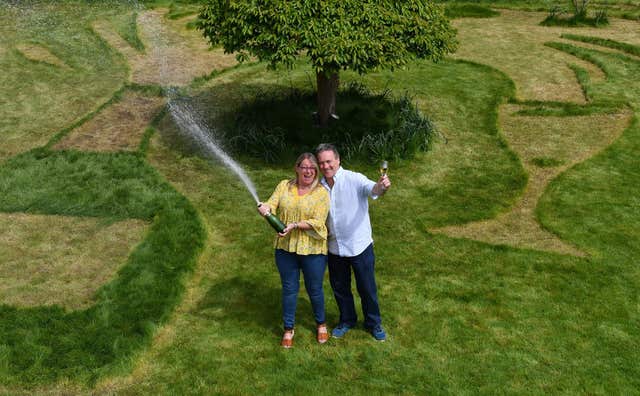 Mr Maddox, who was a building site manager and is now a kitchen designer, said of their newly mowed lawn: "We were getting infamous for the stripes and checks, so we were up for doing something a bit different.
"You can't say this isn't different!
"The neighbours must think we are mad but I've always taken a lot of pride in my garden and this has been really fun to do too.
"Who knows, maybe we've created a trend for the summer, lawn-Moeting."
He said he expected the design to grow out within weeks, and their next project might be a maze for the family to enjoy.