The Labour Party has so far failed to gain control of a single council targeted by Momentum and its Unseat campaign.
The Jeremy Corbyn-backing organisation co-ordinated several events in the lead-up to the local elections, targeting areas to unseat Conservative councillors.
Of the 10 council areas where Unseat events were held, five resulted in victory for the Conservatives, two in no overall control, and three are yet to be announced.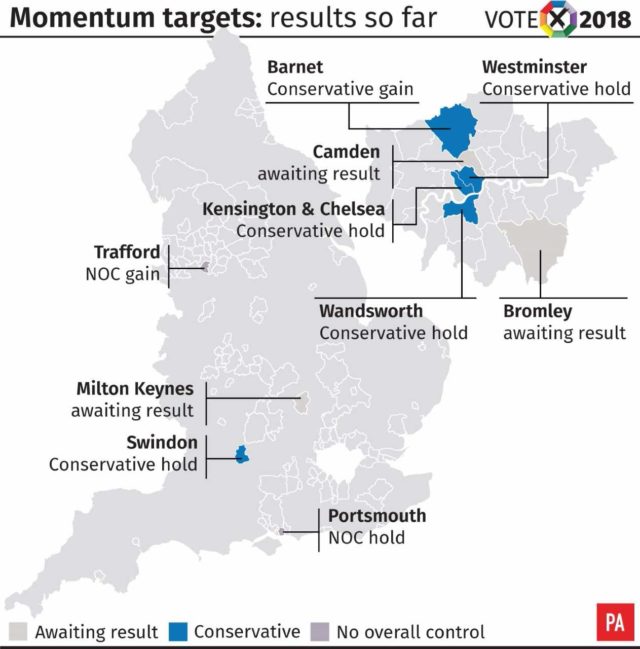 Guardian columnist Owen Jones, who helped organise many of the events, noted that while Labour did not gain overall control of the councils they campaigned for, many saw an increase in the number of councillors elected.
He wrote on Twitter: "Almost everywhere that @PeoplesMomentum held #Unseat campaign events, Labour made gains – some big – and the Tories lost seats. That's down to Momentum and non-Momentum Labour activists. Campaigning works."
Across the seven Momentum campaign areas to have announced results so far, Labour gained 22 councillors and lost five, with all defeats suffered in Barnet, north London.
Mr Corbyn's alleged failure to tackle anti-Semitism is being blamed for the losses after one of the most strongly Jewish boroughs in the country changed from no overall control to being a Tory-led council.
Defeated councillor Adam Langleban wrote on Twitter: "We must NEVER have another election like this. No community group should have their vote dictated by their safety."
A Momentum spokeswoman said: "While it was a mixed night for Labour, we're delighted that Unseat campaign days across the country are having a real impact on election results.
"This shows just how important on-the-ground campaigning is for connecting with voters and winning ground."
The 10 councils Momentum targeted were: Wandsworth, Westminster, Barnet, Kensington and Chelsea, Trafford, Swindon, Milton Keynes, Portsmouth, Camden and Bromley.