Pressure continued to mount on Commons Speaker John Bercow as a former parliamentary official likened his position to disgraced Hollywood mogul Harvey Weinstein.
David Leakey, who retired in 2017 after seven years as senior Lords official Black Rod, said that Mr Bercow – who has faced claims he bullied staff – was "not altogether a bad Speaker" in the same way that "Harvey Weinstein is not altogether a bad film mogul".
But Weinstein had "stepped over the line and had to step down", Mr Leakey said.
He also compared Mr Bercow's position to that of Sir Michael Fallon, who resigned as defence secretary over allegations of inappropriate behaviour.
The Speaker has denied claims of bullying made against him by former private secretaries.
Mr Leakey has emerged as one of his leading critics, and has previously claimed Mr Bercow's "explosive and intemperate behaviour is legendary, objectionable and unworthy of someone in such public office".
In his latest attack, Mr Leakey told LBC Radio: "I'm not calling for him to step down, the only people who can get him to step down are the Members of the House (of Commons).
"Mr Bercow is not an altogether bad Speaker. Harvey Weinstein was not altogether a bad film mogul – he produced some fantastic films, ran a fantastic studio.
"But he stepped over the line and had to step down."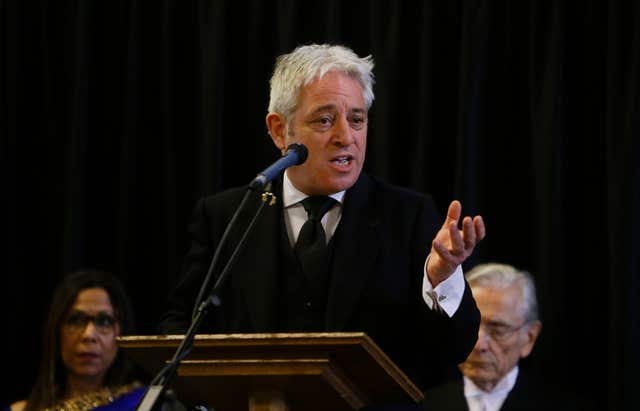 He said: "Michael Fallon was not a bad secretary of state, he did a really good job, he was very, very committed and did a really good job, people acknowledged that.
"But he breached the code, he said: 'I have not lived up to the expectations of the people I serve' … he stepped down.
"If there's one rule for people in one public high office but not for Bercow – there need to be checks and balances on people who hold high office, and Parliament has got to sort out the check and balance."
In response to Mr Leakey's previous accusations, a spokesman for Mr Bercow's office acknowledged the Speaker had fundamental disagreements in the past with Mr Leakey, who was responsible as Black Rod for maintaining order in the House of Lords, but denied the allegations made by him.
"Mr Speaker refutes all the allegations levelled by Mr Leakey," said the spokesman.
"John Bercow and David Leakey are two very different people with very different backgrounds, perspectives and ideas. They had fundamental disagreements in 2011 and 2012, but interacted adequately after that."
Mr Bercow is already facing calls to quit following bullying allegations from former private secretaries Angus Sinclair and Kate Emms.
An inquiry is already under way under Dame Laura Cox QC into claims of a bullying culture at Westminster, but its remit does not extend to looking at individual cases, including allegations against Mr Bercow.
Leader of the Commons Andrea Leadsom said on Wednesday it was for Dame Laura to consider whether the terms of her probe should be expanded "to allow for individual investigations to take place".
But it is understood that Dame Laura is not seeking to extend her remit.