Business Secretary Greg Clark has opened the door to extending a transition period on customs with the EU, as leading Tory remainers came out in favour of the Government's proposed "customs partnership".
Mr Clark said it could be a case of implementing a new customs arrangement "as soon as you can do", as he highlighted the threat to potentially thousands of jobs of additional border checks.
He was backed by former home secretary Amber Rudd, who said Mr Clark was right to argue the case "for a Brexit that protects existing jobs and future investment".
However, influential backbencher and Brexiteer Jacob Rees-Mogg warned the customs partnership model would effectively mean remaining in the European Union.
A decision on the Government's preferred customs option has been postponed after Theresa May's Brexit "war cabinetW failed to reach agreement.
A number of Cabinet ministers spoke out against the Prime Minister's hybrid customs partnership model, which would see Britain collect tariffs on behalf of the EU for goods destined for the block, with firms potentially claiming back a rebate if products remained in the UK on a lower-tariff regime.
Mr Clark was reportedly close to tears at the meeting, as he urged colleagues to consider the potential job losses of a bad deal on customs.
Speaking on BBC One's Andrew Marr Show, the Business Secretary said it would take some time for new customs arrangements to be put in place, saying it was "possible" it may take until 2023 to put new infrastructure in place.
He added: "So what I'm suggesting is as part of the work over the next few weeks, I think it would be a mistake to move from one situation to another to a third.
"If we can make progress as to what, which I think we can, as to what the right arrangement is for the long term, then it may be possible to bring that in over that period of time."
Asked if the transition could be extended until Britain was ready, he said: "It wouldn't be a question of extending the transition. It would be, as it were, implementing as soon as you can do… there will be different parts that can be done immediately. There will be things that will take more time."
Mr Clark cited the example of Toyota, saying it was making major decisions about future production and there were fears over how the firm's "just in time" manufacturing model would operate with customs checks.
The company employs 3,500 people in the UK, Mr Clark said, adding that jobs had to be at the forefront of Britain's future customs model.
He went on to say the customs partnership model meant parts could be imported without any checks at the border or paperwork.
Mr Clark added: "But it's not perfect, because what it means is that if we have imports from other countries where we've abolished the tariff, there has to be an arrangement where you pay back."
He went on to say: "Of course business wants certainty. Everyone recognises that. But every business that I talk to wants the certainty that the agreement is the right one.
"No one wants the certainty, which is available at any time, of simply collapsing the negotiations, saying 'well we're not going to bother with this, we're going to accept frictions at the border', for example."
Business groups the British Chambers of Commerce and the CBI welcomed Mr Clark's comments, saying it was important to maintain the status quo on frictionless trade until a new arrangement is in place.
Ms Rudd, meanwhile, wrote on Twitter: "@GregClarkMP quite right, making the case clearly and yes, passionately, for a Brexit that protects existing jobs and future investment."
Mr Rees-Mogg, chairman of the European Research Group of Tory MPs, dismissed Mr Clark's warnings about the impact of rejecting the customs partnership.
He told ITV's Peston On Sunday: "This Project Fear has been so thoroughly discredited that you would have thought it would have come to an end by now.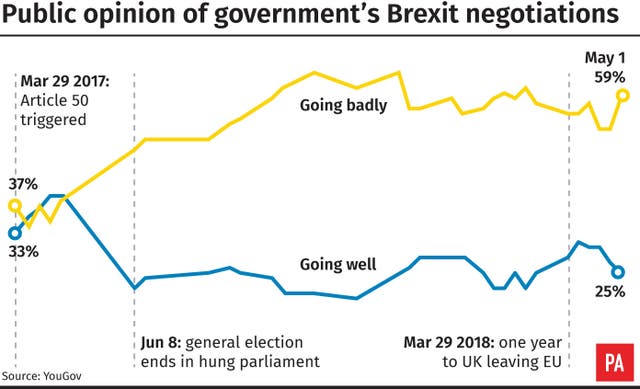 "We will have control of goods coming into this country – we will set our own laws, our own policies, our own regulations, and therefore we will determine how efficient the border is coming into us."
He added it would be "odd" for the Prime Minister to back a policy that effectively breached her commitment on leaving both the customs union and single market.
Writing in The Sun On Sunday, Mrs May said she had an "absolute determination to make a success of Brexit, by leaving the single market and customs union and building a new relationship with EU partners that takes back control of our borders, our laws and our money".
She said the UK was "making good progress towards that goal and we will carry on doing so with resolution in the months ahead".
DUP leader Arlene Foster, whose party props up Mrs May's government in Westminster, hit out at Brussels over the EU's stance on customs.
She told The Andrew Marr Show: "We don't believe that we have to stay in the customs union to have free flow between ourselves and the Republic of Ireland.
"We believe that there are ways to deal with this, and indeed, back in August of last year, as you know, the Government put forward various proposals. We were disappointed there wasn't the engagement from the European Union at that time."