Lawyers representing Sir Cliff Richard have criticised BBC bosses over the way the singer was questioned about his "religious and political beliefs" during a High Court trial.
Barrister Justin Rushbrooke QC, who is leading Sir Cliff's legal team, told a judge on Tuesday that a lawyer representing the BBC had cross-examined Sir Cliff in an "intrusive way".
He told Mr Justice Mann that "unjustified" questioning had caused Sir Cliff to "re-live very painful events" and made him "break down in tears" when giving evidence.
The 77-year-old singer has sued the BBC over coverage of a South Yorkshire Police raid on his home in August 2014 and wants damages at the "top end" of the scale.
He has told Mr Justice Mann that coverage, which involved the use of a helicopter, was a "very serious invasion" of his privacy.
The BBC disputes his claims.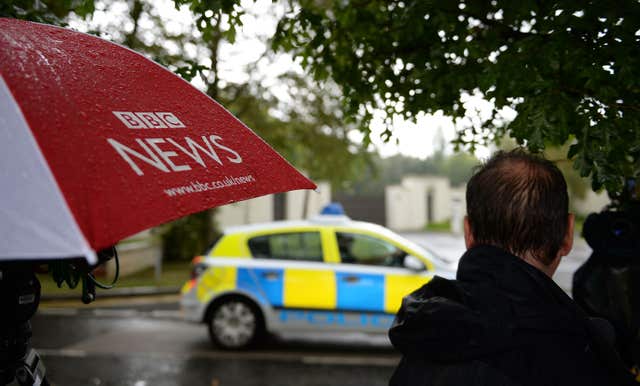 Mr Justice Mann has finished analysing evidence at a High Court trial in London.
He is now considering barristers' closing legal arguments.
Mr Rushbrooke said, in a written "closing submission", that Sir Cliff had might have suffered permanent damage to his self-esteem as a result of the BBC coverage.
He said "intrusive" questioning had added insult to injury.
Mr Rushbrooke said the singer should get "very substantial damages".
Sir Cliff was not at Tuesday's hearing.
"The BBC has added considerable insult to the injury that its coverage caused (Sir Cliff) by … cross-examining (Sir Cliff) in an intrusive way about his religious and political beliefs, in some instances on views he had expressed decades previously, notwithstanding that there was no reasonable justification for doing so, and that the purpose of doing so appeared to be to insinuate hypocrisy on his part," said Mr Rushbrooke in his written submission.
"The latter part of the cross-examination also caused him to relive very painful events in a way, or to an extent, that was unjustified and caused him to break down in tears."
He said, in general, Sir Cliff had coped with the "unnecessary and largely unpleasant experience" with "commendable phlegm".
Mr Rushbrooke suggested that Sir Cliff should get more than £175,000 damages.
Mr Justice Mann has heard that South Yorkshire Police have already agreed to pay Sir Cliff £400,000 after settling a claim he brought against the force./
The singer initially sued the BBC and South Yorkshire Police after complaining about coverage of the raid.
But Mr Justice Mann was told in May 2017 that that dispute had been settled after the force agreed to pay the singer "substantial" damages.
The judge was given the figure by lawyers representing the force earlier in the trial.
BBC bosses say reporting was confined to "basic facts" and "in the public interest".
Barrister Gavin Millar QC, who is leading the BBC's legal team, told the judge that broadcasters had a "strong journalistic right" to report as they did.
He said an allegation of a "serious criminal offence" had been made.
"The allegation being investigated was of a serious criminal offence," Mr Millar told Mr Justice Mann in a written "closing skeleton argument".
"The BBC's reporting was confined to the most basic facts, visual images, concerning the investigation and the search."
He added: "There was nothing in the reporting that was inconsistent with the presumption of innocence."
Mr Millar said BBC journalists had given Sir Cliff's representatives the "opportunity to reply".
"No doubt the reporting had an impact on (Sir Cliff) and those close to him," he said.
"But this has to be separated out from the distress he experienced, and would have experienced in any event, as a result of being the subject of such an allegation, investigation and search."
Mr Millar added: "The relevant editorial staff believed, prior to broadcasts commencing, that publication would be in the public interest."
He said Sir Cliff's claim should be dismissed.