UK construction output suffered its biggest decline since August 2012, adding to evidence of "sluggish" economic growth in the first quarter.
Figures released by the Office for National Statistics (ONS) show construction continuing its recent decline, falling by 2.7% in the three months to March.
It marked the biggest fall on a three-month basis since August 2012, and was driven by falls in both repair and maintenance, as well as new work which dropped 2.8% and 2.6%, respectively.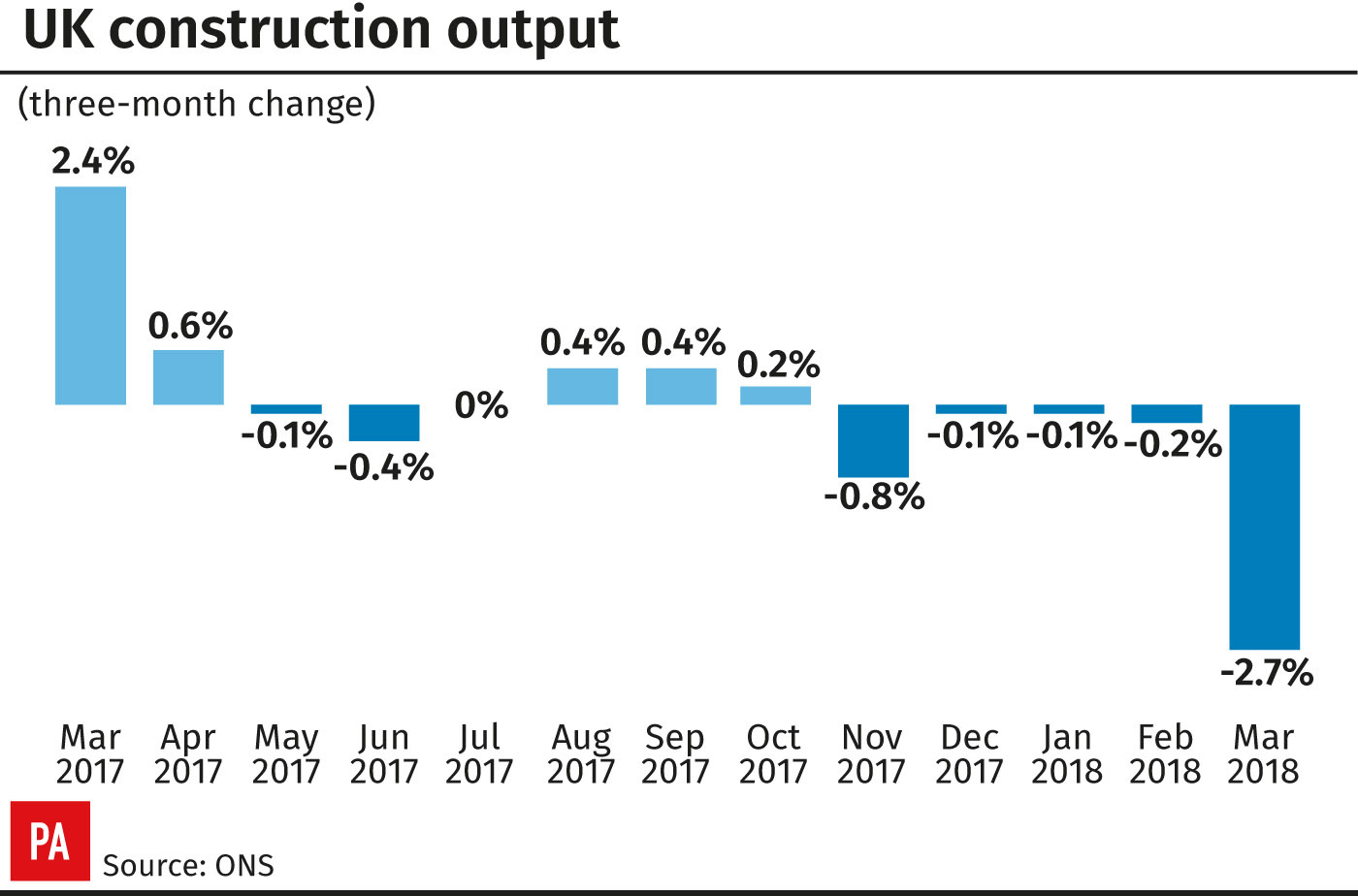 The ONS said a small number of survey respondents said snowy weather affected their business in both February and March, but the statistics agency said it was difficult to quantify the exact impact that the storms had on the industry.
Total UK production rose by 0.1% month-on-month, thanks to higher energy demand during the wintry weather.
On a three-month basis, the Index of Production rose 0.6% compared to the three months to December 2017 – again mainly due to a rise in energy supply, which was up 2.5% over the period.
ONS head of national accounts Rob Kent-Smith said: "Today's figures support previous estimates showing the economy was very sluggish in the first quarter of 2018, with little impact overall from the bad weather.
"Manufacturing was broadly flat throughout the first quarter following several months of strong growth, with no evidence that the bad weather hampered UK factories as both domestic and international sales stalled.
"Machinery, transport and computer manufacturers all saw their output grow. This was largely offset by falling production of electrical equipment and oil refining."
The statistics agency also released trading figures for the three months to March.
The UK total trade deficit accounting for both goods and services narrowed by £700 million to £6.9 billion over the period.
The ONS said it was mainly due to falling goods imports from non-EU countries.
Mr Kent-Smith said: "The UK trade deficit with the rest of the world fell in the first quarter with reduced imports of ships, clothing and aircraft from outside the EU."
"While export activity remains strong amid improving global trading conditions, the UK's net trade position is likely to remain under pressure from strong import growth, with little sign that businesses or consumers are switching away from imports towards domestic alternatives, despite their higher cost.
"As a consequence, the lack of import substitution is likely to limit trade's contribution to UK economic growth over the near term and means that a sustained re-balancing of the UK economy remains a long way off."
Commenting on the construction figures, EY ITEM Club chief economic adviser Howard Archer said the outlook "may well remain challenging, with the weakness of the economy in the first quarter likely to fuel concerns along with still significant Brexit uncertainties and limit clients' willingness to commit to new projects.
"A shortage of new infrastructure projects to bid is also still a concern," he added.
"Construction companies will be hoping that the measures that the Chancellor took in November's budget aimed at lifting new house building to 300,000 a year will prove to be genuinely effective."