Brexit campaign group Leave.EU has been fined a record-equalling £70,000 and its chief executive has been referred to police over its spending during the EU referendum campaign, the Electoral Commission said.
The pro-leave group, co-founded by former Ukip backer Arron Banks, failed to include £77,380 in its spending returns, taking it 10% over the limit for non-party registered groups, an investigation found.
The commission said the actual overspend figure "may well have been considerably higher", adding that the group had presented "incomplete and inaccurate" information.
Leave.EU's chief executive, Liz Bilney, who signed the spending returns, has been referred to the Metropolitan Police, with the commission saying it had "reasonable grounds to suspect that the responsible person for Leave.EU committed criminal offences".
Mr Banks attacked the Electoral Commission (EC) and threatened to take legal action over its findings.
He said: "We view the Electoral Commission announcement as a politically-motivated attack on Brexit and the 17.4 million people who defied the establishment to vote for an independent Britain."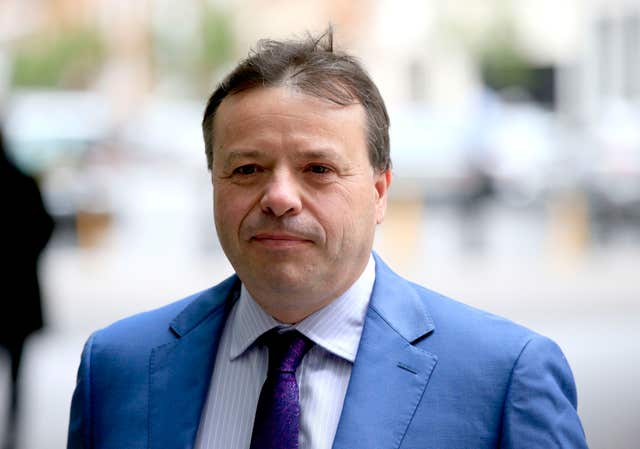 "What a shambles. We will see them in court."
Speaking on BBC Radio 4's Today programme, he added that the commission was made up of "former MPs, liberal MPs, the SNP, former Labour leaders of councils, all sorts of people that all believe in Remain".
The £70,000 fine handed out by the Electoral Commission matches its previous record financial censure, handed out in March 2017 to the Conservatives for offences during the 2015 general election campaign and by-elections the previous year.
A separate probe into spending by the official Leave campaign, Vote Leave, is continuing, the EC said.
The £77,380 which was not included in the spending was fees paid to the company Better For The Country Limited, the campaign organiser.
The commission investigation also found that three loans from Mr Banks, totalling £6 million, had been incorrectly reported by Leave.EU.
It was also criticised for failing to report services from US strategy firm Goddard Gunster when it should have done.
The commission said it was satisfied that the overall overspend  "was in fact greater, given the failure to report an appropriate proportion of the cost of services provided by Goddard Gunster".
The organisation additionally failed to provide invoices or receipts for a further 97 payments of more than £200, which together totalled £80,224.
But the commission said it found no evidence that controversial tech firm Cambridge Analytica had made donations or provided paid-for services, and its role was limited to "initial scoping work".
The controversial firm's role in the referendum has been the subject of much scrutiny in recent weeks.
Electoral Commission chief executive Claire Bassett denied claims of bias made by Mr Banks.
She told Today: "The decisions were made by directors of the Electoral Commission, they were made based on robust evidence we had gathered, and indeed you can see that in the 30-page report that we published."
Ms Bassett added that there was evidence of problems with financial reporting, saying: "It is quite clear that those transaction returns contained inaccurate information about purported loans to Leave.EU and it also contains significant errors about how money was spent – money was missing and invoices were missing."
Tory MP Damian Collins, chairman of the Digital, Culture, Media and Sport Select Committee, said Mr Banks and Andy Wigmore, Leave.EU's communications director, would face questions from the committee next month.
Senior Electoral Commission officials will appear before it on May 15, he added in a tweet.