Tens of thousands of people joined a noisy, colourful demonstration on Saturday calling for a "new deal" for workers and public services.
Union members, peace campaigners and politicians joined pensioners and families from across the UK at the event in central London, organised by the TUC.
It was the biggest demonstration for years, with the aim of calling for a higher minimum wage, a ban on zero-hours contracts and more funding for the NHS, education and other public services.
Workers involved in current disputes including those at restaurant chains TGI Fridays and McDonald's joined the march, along with nurses, ambulance crews, postmen, teachers, civil servants and cleaners.
TUC general secretary Frances O'Grady said before the march started that workers have had enough of low pay, poor quality jobs and constant cuts to public services.
She added: "There is a new mood in the country. People have been very patient but they are now demanding a new deal."
Dave Ward, general secretary of the Communication Workers Union, said it was the most important demonstration for 50 years.
He said: "This is the start of a serious challenge for a new deal for all workers.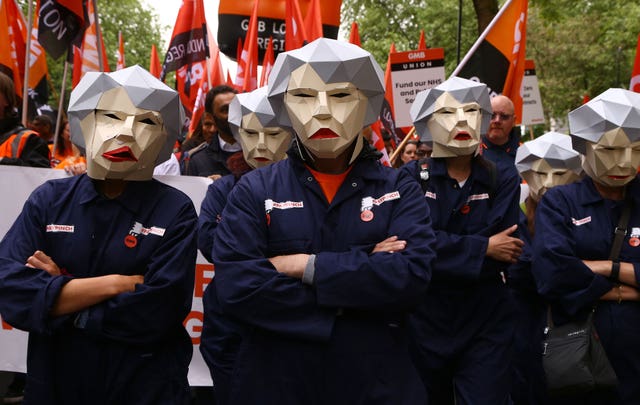 To mark the event, the TUC published data which it said showed that workers were suffering the longest squeeze on wages in modern history.
A decade on from the financial crisis, real wages are worth £24 a week less than in 2008 and are not forecast to return to pre-crash levels until 2025, said the union organisation.
The TUC said the current stretch of wage stagnation was the worst for 200 years.
By 2025 the average worker will have lost out by around £18,500 in real earnings, it was estimated.
The march will end in a rally to be addressed by Labour leader Jeremy Corbyn and leaders of the country's biggest unions.