Ireland and the EU's negotiating team are of one mind on insisting there can be no Brexit withdrawal treaty without a deal on the border, the Irish deputy premier has said.
Simon Coveney called again for legal certainty on maintaining a free-flowing frontier between north and south after meeting with the EU's chief negotiator Michel Barnier in Brussels.
His comments came as Sinn Fein leader Mary Lou McDonald accused Brexiteers who claim a soft border can be maintained by using technology alone of serving up "fantastical non-starters".
Last December, the UK and EU agreed the need for a "backstop" option that would ensure no return of a hard border – through an alignment of regulations across the island – even if a wider Brexit trade deal failed to materialise.
The UK rejected a subsequent attempt by the EU to translate that agreement into legally operable text in a proposed withdrawal treaty. A political stand-off has ensued over the vexed issue.
After talks with Mr Barnier, Tanaiste Mr Coveney again stressed the need for the backstop to be resolved ahead of June's crunch European Council summit.
"Michel Barnier has made it very clear, and I agree with him, that there will be no withdrawal treaty if there isn't a backstop dealing with the Irish border in that treaty," he said.
The Irish government is hopeful a comprehensive resolution could lie in the concept of shared customs territory.
Mr Coveney has suggested Theresa May's vision of a partnership – where the UK collects tariffs on behalf of Brussels – could provide the basis for negotiating a solution.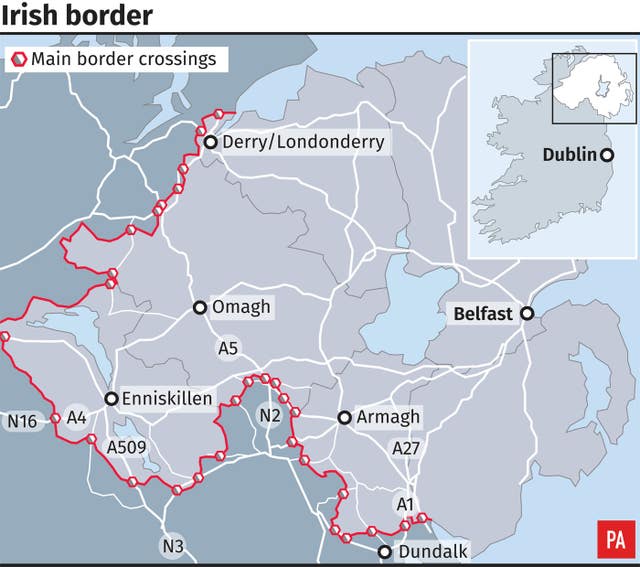 Mr Coveney said: "Nobody is saying everything has to be resolved by the end of June but we certainly need to see a solution on the Irish border backstop issue taking shape by the end of June.
"There is no flexibility on two things – one, there has to be backstop in the withdrawal agreement.
"If there isn't a backstop there won't be a withdrawal agreement.
"And, secondly, that backstop has to deal comprehensively with the border issue.
"In other words, it has to follow through on the commitment that has been made (in December's joint text) on there being no infrastructure or no related checks or controls on the island of Ireland."
Back in Belfast, Sinn Fein President Ms McDonald accused Brexiteers in the UK government of "playing games" and stalling for time.
She insisted a firm resolution to the border problem had to be struck by June.
"I think June now needs to be understood by all parties to this negotiation, but by the British Government in particular, as a red letter occasion and an occasion on which we need answers," she said.
Mrs McDonald also accused the Democratic Unionists of betraying the people of Ireland, north and south.
Her remarks came after DUP MP Sammy Wilson branded Mr Coveney "belligerent, interfering and Brit bashing" for advocating the EU/UK shared customs territory concept.
On Sunday Mr Wilson claimed the Irish government was attempting to undermine Northern Ireland's position within the UK.
"The DUP have failed the people, they are on the wrong side of the Brexit argument, they have betrayed people, they have betrayed people's best economic and social interests," said Ms McDonald.
"And the bluster and the huffing and puffing, the very infantile name calling that we have heard again, is simply deployed by them as cover for their own political failures."
Elsewhere on Monday, the Ulster Unionists branded the Irish government's stance as "ridiculous".
"We have heard the Irish Government spend the last number of months lecturing on what won't work as a resolution to the post-Brexit border issue, but have heard little from them in terms of constructive proposals," said UUP Assembly member Steve Aiken.
"The reality is that if they are serious about protecting the people of Northern Ireland and the Republic from the sharpest edges of Brexit, rather than just narrow minded pre-electioneering, then they must engage with the UK on the issue.
"To continue simply rejecting proposals out of hand is ridiculous."
DUP MEP Diane Dodds criticised Ms McDonald's remarks.
"We take our direction and mandate from those who elected us to office, not from the Sinn Fein leadership," she said.
"By refusing to take up their seats in the House of Commons Sinn Fein representatives would rather address the empty corridors of Stormont than represent their constituents at Westminster and make their case directly.
"Ultimately it is this that amounts to a 'reckless' and 'cavalier' approach to the concerns of people living across Northern Ireland, including those in border communities."