A senior Cabinet minister has warned Boris Johnson that he is in danger of undermining Britain's position in the Brexit negotiations with his criticism of the Government's proposals.
Health Secretary Jeremy Hunt said the EU side would seize upon divisions in the ranks of ministers in the ongoing talks in Brussels.
His comments came after the Foreign Secretary branded proposals for a "customs partnership" with the EU – thought to be Prime Minister Theresa May's favoured option – "crazy".
"I actually think he (Mr Johnson) has a very important role to play in the Government and he is the architect of the whole Brexit campaign and we are listening to what he says and we are doing what he wants.
"But I think we have to recognise that we are not the only people who read the papers in Britain and we need to give Theresa May some space.
"If we are going to have these lively debates, we should have them in private because that will strengthen Theresa May's negotiating hand."
Asked if his message to Mr Johnson was to "belt up", Mr Hunt said: "You could say that. I'd say he is a marvellous Foreign Secretary but let's work as a team."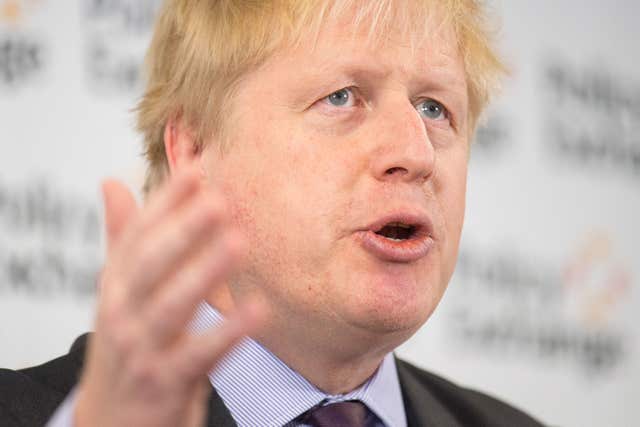 On Sunday, Environment Secretary Michael Gove joined Mr Johnson in publicly criticising the customs partnership option with the EU that would see the UK collect tariffs for Brussels.
The alternative model known as maximum facilitation, or "max fac", would rely on new technology and trusted trader schemes.
With the top team divided, the Prime Minister's former effective deputy, Damian Green, suggested Britain may have to stay in the current customs union longer than planned by extending the transition period in order to find a way forward – an idea arch Brexiteers have continually rejected.
"I think the most likely endpoint will be some of what's called the maximum facilitation, some variant of that.
"I, personally, am not yet convinced that you could have that in place by the end of 2020, at the end of the implementation period, and, therefore, you might need to bolt on to that another period, a sort of transition period into that, so that we know not only that it works, but that it works from day one.
"That's really important, and I think that's more important than any ideological posturing that seems to be going on over this."