Labour is launching a new parliamentary bid to force the Government to release details of its proposals for post-Brexit customs arrangements on the Irish border.
Jeremy Corbyn's party has tabled a motion in the Commons for debate on Wednesday designed to break the "deadlock" over the so-called "customs partnership" and "maximum facilitation" models.
The move came as Theresa May's Brexit "war cabinet" met again without reaching agreement on which of the two it will back.
The EU is putting pressure on Britain to present its preferred option at the upcoming meeting of the European Council in June, though Downing Street insists it will not put a timetable on the process.
Conservative MPs were invited into Downing Street on Monday for a briefing from the PM and chief of staff Gavin Barwell on the "customs partnership", believed to be Mrs May's preferred option, under which the UK would collect tariffs on the EU's behalf, and the "max fac" scheme, which involves the use of technology to minimise friction at the Irish border.
But EU chief negotiator Michel Barnier is reported to have told a Brussels meeting that it was not worth fighting about the two UK proposals, as neither of them is "realistic".
The meeting, attended by 11 ministers including Foreign Secretary Boris Johnson, was not asked to make a choice between the models.
No date has been announced for a further meeting.
In the House of Commons, Mr Johnson shrugged off suggestions that he had breached Cabinet collective responsibility by branding the partnership option "crazy".
Asked whether he felt he had to abide by the convention, which requires ministers not to air their private opinions on issues of Government policy, he replied: "Of course."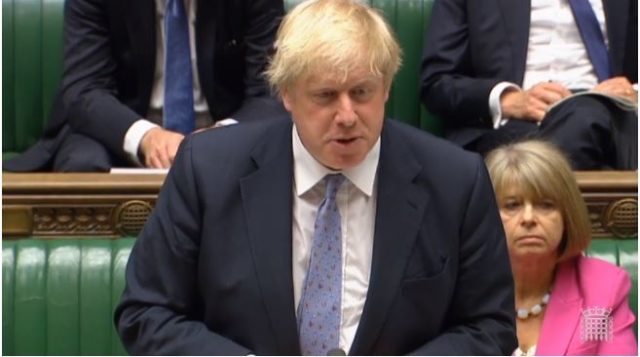 It is the latest in a string of Labour motions using an arcane parliamentary procedure to make the vote binding on the Government by issuing a "humble address" to the Queen asking her to require ministers to comply.
Shadow Brexit secretary Sir Keir Starmer said: "The Government's Brexit strategy is in complete and utter deadlock.
"Nearly two years on from the referendum, ministers have still yet to agree what our future customs and trading relationship with Europe will look like after Brexit.
"Instead, the Prime Minister has wasted months pursing her two fatally flawed customs options and presiding over a Government that is too busy arguing with itself to negotiate for Britain.
"If Theresa May is too weak to take that decision, then she should give Parliament the information to let it decide."
Liberal Democrat MP Tom Brake, a supporter of the Best for Britain campaign against hard Brexit, said the war cabinet had "kicked the can down the road again".
"The Prime Minister was once thought to be decisive," said Mr Brake.
"Those days are long gone. Now she looks like a prisoner of the Brexiteers in her own party."
And Mrs May also received a call for greater urgency from the unexpected direction of Rolling Stones singer Sir Mick Jagger.
Sir Mick told BBC Radio 4's Today programme: "I'm not really happy about the status quo… The current Government seems to have a hard time navigating through it. One week it's one thing, one week it's the next.
"Everyone would like to see a fast resolution, a united front….and some leadership that's united rather than split."
Asked for the PM's response to Sir Mick's complaint, Mrs May's official spokesman said he would point the rocker to an article in the Sunday Times in which she set out her plans for Brexit.