The Queen looked cool in a pair of sun glasses as she attended the first garden party of the summer – but clutched an umbrella just in case.
With much of the country enjoying strong sunshine, the Queen hosted the first of a string of outdoor parties at Buckingham Palace, inviting thousands into the gardens.
The Queen was joined by the Duke of York and the Earl and Countess of Wessex on the palace lawns for the garden party heralding the start of the summer season which includes Royal Ascot and Trooping the Colour.
Wearing a jade coloured coat by Stewart Parvin and a matching hat by Rachel Trevor-Morgan, the head of state walked among her guests carrying her Fulton umbrella trimmed in the same colour.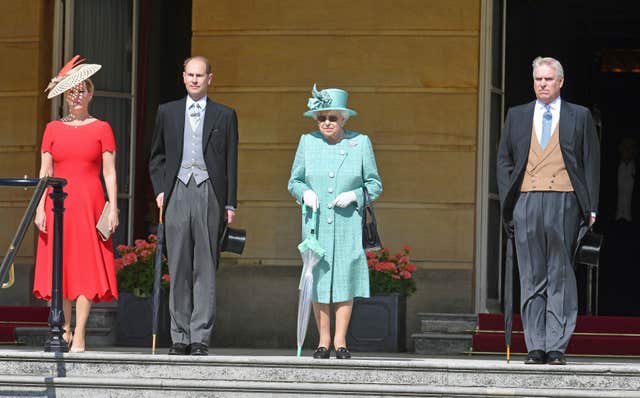 The Queen is rarely seen wearing sun glasses at official occasions and is normally spotted with them at private events such as when she goes horse racing.
Today the Queen hosts three garden parties a year at Buckingham Palace and one at Holyroodhouse in Edinburgh, with more than 30,000 people attending in total.
The quantities of afternoon tea served are enormous, with 27,000 cups of tea, 20,000 sandwiches and 20,000 slices of cake consumed during a typical garden party.