Turkish president Recep Tayyip Erdogan has used a meeting with Theresa May to accuse Israel and the United States of roles in a "horrible massacre" in Gaza.
Seated next to Mrs May in Downing Street ahead of talks with the Prime Minister, he said many "martyrs" had been created in Monday's deadly clash, in which 58 Palestinians were killed by Israeli snipers.
And he accused the US, Britain's closest ally, of laying the foundations for the carnage by moving its embassy from Tel Aviv to the disputed city of Jerusalem.
After Mrs May had said their talks would focus on trade, Syria and defence, Mr Erdogan said: "While we are focusing our talks on the Syria issue, yesterday, unfortunately, significant incidents have unfolded in Palestine after the US decided to move their embassy to Jerusalem from Tel Aviv.
"We are facing significant challenges and there are a lot of martyrs. There are more than 2,000 wounded and more than 50 casualties.
"Unfortunately, while Israel was busy undertaking this horrible massacre, unfortunately the United States paved the way for this and laid the foundations."
The embassy opening on Monday took place around 60 miles from where the protesters were killed.
US president Donald Trump had approved the change after becoming president and the ceremony was attended by his daughter and adviser Ivanka.
The Prime Minister shook hands and posed for photographs with Mr Erdogan outside No 10 as demonstrators opposed to his authoritarian rule audibly shouted slogans and waved placards on Whitehall.
He had earlier visited Buckingham Palace for an audience with the Queen, on the last day of a three-day visit to Britain.
Critics had accused the Prime Minister of cosying up to a totalitarian leader for economic reasons as she prepared to host him at No 10.
Demonstrators chanted "Turkish state, fascist state" through a public address system and waved banners opposite the gates to Downing Street branding Mr Erdogan a terrorist.
Pro-Kurdish groups raised concerns about human rights abuses by Mr Erdogan's government and urged Mrs May to distance herself from the Turkish leader, who has been accused or purging opponents, sacking thousands of officials and jailing critics and journalists.
Downing Street insisted Mrs May will raise human rights issues during the talks.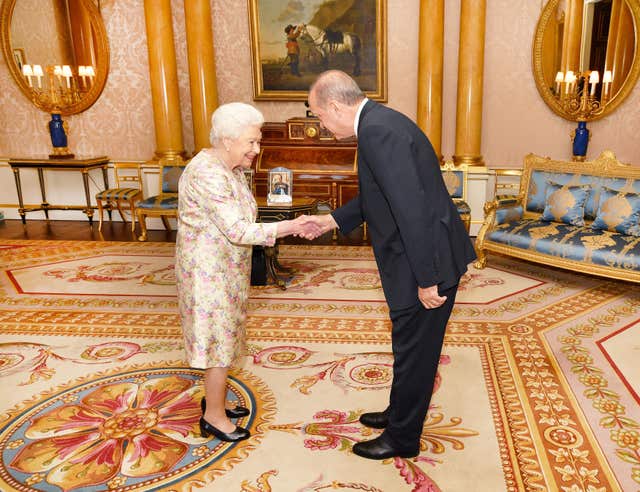 Speaking via an interpreter she told the Turkish leader: "I'm sure we will be talking about the growing trade relationship between Turkey and the UK.
"And we will also, I'm sure, talk about our defence cooperation and our cooperation on security matters.
"And of course, Turkey and the UK play an important role in regional security.
"I'm sure we will also want to talk about Syria and our cooperative work in defeating Daesh (Islamic State). I think these shared interests are a sign of the significant relationship between Turkey and the UK."