Meghan Markle's father will not be attending her wedding to Prince Harry, the American star has confirmed.
In a statement released by Kensington Palace, the bride-to-be spoke of her sadness that Thomas Markle would miss her big day.
"Sadly, my father will not be attending our wedding," Meghan said.
"I have always cared for my father and hope he can be given the space he needs to focus on his health.
"Please know how much Harry and I look forward to sharing our special day with you on Saturday."
Mr Markle is still in Mexico where he is recovering after undergoing heart surgery on Wednesday to implant three stents.
The reclusive former TV lighting director, who had been due to walk his daughter down the aisle, was caught up in controversy after allegedly being caught staging photographs with the paparazzi.
He reportedly pulled out of attending the ceremony in St George's Chapel on May 19 to avoid embarrassing his daughter, but then later said before his surgery that he wanted to be part of history and hoped to be there, celebrity website TMZ revealed.
Meanwhile, a dress rehearsal for the big day is taking place in Windsor, with thousands of people turning out to get a flavour of how Saturday will unfold.
The roads around the town are closed as wellwishers bask beneath blue skies and beaming sunshine – weather expected to stay around for the weekend.
Some 250 members of the armed forces are expected to take part in Saturday's festivities, lining the streets as the newly-wed Harry and Meghan head on a 25-minute carriage ride through the town.
Press from around the world, tourists, locals and royal super fans are watching from behind barriers as members of the military parade around Windsor.
There is a heavy police presence with armed officers stationed around town and other officers on top of buildings looking over the crowds from a height.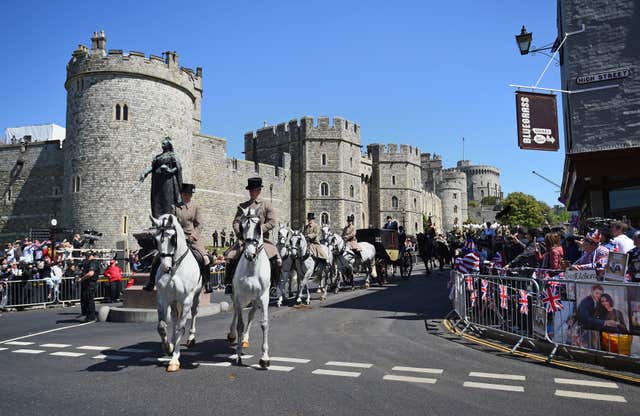 There is no official confirmation yet on who will step in to walk Meghan down the aisle in historic St George's Chapel in front of a global television audience of millions.
Meghan's mother Doria Ragland, who has arrived in the UK ahead of the big day, is tipped for the role or perhaps the bride will turn to her closest male friend, Soho House director Markus Anderson.
Prince Harry has not yet met his future father-in-law Mr Markle – the first meeting due to take place this week.
Mr Markle was also set to be introduced to the Queen, the Duke of Edinburgh, the Prince of Wales, the Duchess of Cornwall and the Duke and Duchess of Cambridge ahead of the wedding.
Six hundred guests will gather in Windsor Castle's 15th century chapel this weekend to watch Harry marry the former Suits star.
The pair got engaged after a whirlwind 16-month romance after meeting on a blind date.
With the dramatic upset to the fairytale wedding coming just two days before the ceremony, Ms Markle will be bitterly disappointed her father will not be there.
Commentators have been criticising what they claim is a lack of assistance provided to Mr Markle from royal aides, but it is understood Meghan and Harry have been trying to help the former lighting director cope with the pressure of being in the limelight since 2016.
Sources said Meghan is concerned for her father, but is being supported by her mother and her friends as she gets ready for her big day.
The US actress has always wanted her father to be part of her nuptials and she and the prince remain in touch with him.
Mr Markle is understood to have told the couple he cannot travel due to medical advice.
Preparations continued, however, in Windsor where a military dress rehearsal was taking place, with thousands of people turning out to get a flavour of how Saturday will unfold.
Armed forces paraded through the streets in a dry run of the wedding day pomp and ceremony.